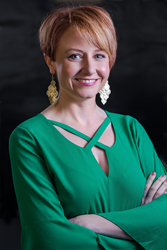 "It's an exciting time to be in this industry and even more exciting to be part of an industry-changing player like Aimclear." -Susan Wenograd, Aimclear
DULUTH, Minn. (PRWEB) September 12, 2018
Minnesota-based Aimclear® today announced the addition of industry veteran Susan Wenograd to its team of industry-shaping marketers. The move extends the agency's decade-plus history of marketing innovation and performance customer acquisition. Wenograd joins Aimclear as account group director, following her own rise to industry prominence. She is a veteran marketer, senior-level strategist and innovator, and a proven leader.
In her new role with Aimclear, Wenograd will manage client accounts hands-on, contribute to business development, and extend Aimclear's thought leadership footprint in the marketing industry and other key business sectors. Wenograd has held multiple senior roles with digital marketing agencies over the past 15 years, while concurrently leading a successful paid media consultancy for more than a decade. During that time, she established herself as a sought after speaker and presenter at major marketing conferences around the world.
"Susan is a top-notch professional who has built an impressive reputation whilst earning wonderful clients in much the same way Aimclear has over the last decade - by reinventing marketing and establishing an extraordinary thought leadership presence," said Marty Weintraub, founder & creative director for Aimclear. "Aimclear has cultivated a powerhouse roster of top professionals who support iconic brands of all sizes. Susan brings deep insight into trends and methods that can help clients thrive in an increasingly competitive, opportunity-filled era."
"I've known the Aimclear crew for years and am thrilled to join such an accomplished team," noted Wenograd. "I wanted the next step in my career to be about helping a company that's best in the world become even better. It's an exciting time to be in this industry and even more exciting to be part of an industry-changing player like Aimclear."
Wenograd brings an established book of business to the Aimclear client roster and will continue to support those clients directly, drawing upon the broader agency teams and resources. She formally joined the company September 6th and will continue to operate from an office in Richmond, Virginia, which essentially extends Aimclear's geographic presence. She'll spend significant time in Minnesota working with client teams and supporting the agency's strategic business development initiatives.
Founded over a decade ago, Aimclear delivers next-gen integrated marketing through its offices in Duluth and Saint Paul, Minnesota. Weintraub launched the company in 2007 and has grown it to six-time Inc. 5000 status. Team members traverse the globe sharing thought leadership at top industry conferences from London to New York, Jerusalem to San Francisco and Warsaw to Dallas. Similarly, Wenograd is well established on the international conference circuit and will represent Aimclear alongside her agency colleagues at many future conferences.
More About Aimclear®
Aimclear® is a 6x Inc. 500/5000 digital marketing agency dominant in audience targeting and customer acquisition. Our differentiator is the Tao of holistic creative brand-builds and integrated psychographic performance marketing attribution.
As Aimclear also distributes segmented messages to influencers for buzz, links and earned-media, the agency has evolved to be the missing link unifying search, social, PR, influencers and psychographic display. More information is available at aimclear.com.