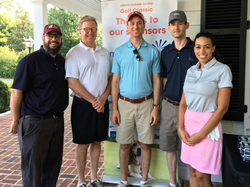 This was their 1st annual event, well-executed, very professional and great fun.
ATLANTA (PRWEB) August 14, 2019
ProviDyn®, a provider of IT support, strategy and services for small and medium-sized businesses and nonprofits was one of the sponsors of the 1st Annual Atlanta Humane Society Golf Classic, a metro Atlanta golf tournament with proceeds benefitting the lifesaving work of the Atlanta Humane Society. Kicked off on Monday, August 12 at the first-class TPC Sugarloaf course in Duluth, this festive event was a unique opportunity to enjoy a great day of golf alongside a diverse group of Atlanta corporate leaders and sponsors who included PNC, Albion, and New Realm Brewing.
The ProviDyn® team, comprised of Matt Galloway (Senior Director, Operations), Melissa Codner (Strategic Solutions), Tyler Olsen (Engineer Team Lead) and David Richardson (Solution Advisor), were out in full force with 50-60 other players, having a blast and not necessarily keeping score.
According to Matt Galloway, "One of the initiatives they highlighted during the presentation at lunch was the fairly recent partnership with Pets for Patriots, which works with veterans, particularly those dealing with PTSD."
"This was their 1st annual event, well-executed, very professional and great fun. So, we're looking forward to participating next year," noted Melissa Codner. She continued, "They already have a tentative date set for September 21, 2020."
For a quick overview of the event, please visit https://youtu.be/655NkaObSMk
To secure a sponsorship or foursome, please contact Joy K. Hallinan, CFRE, Vice President of Development at jhallinan(at)atlantahumane.org or 404-974-2877.
About the Atlanta Humane Society
The Atlanta Humane Society (AHS) is one of the oldest private charitable organizations in Atlanta, founded in 1873. AHS placed 11,034 animals into forever homes in 2017. It is their mission to improve animal welfare in the southeastern United States by providing quality animal services including preventative initiatives, education, advocacy and adoption of animals into permanent loving homes. They are proud to be a part of the solution to ending pet homelessness and overpopulation in the Southeast United States. For more information, visit http://www.atlantahumane.org.
About ProviDyn
ProviDyn® provides technology expertise, services and support to help small and mid-sized organizations sustain growth and strengthen performance. Backed by technology experts, ProviDyn® helps organizations gain the full benefits of existing technology, make strategic investments in implementing new technology and maintain an infrastructure that is secure, reliable and flexible. ProviDyn® offers managed services, mobile computing, IT strategy, virtualization, cloud computing, business continuity, network security and IP telephony. To learn more about how ProviDyn® is driving business through technology and helping companies reduce costs, improve efficiency and maximize productivity, visit http://www.providyn.com.