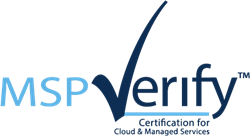 "The process of achieving this certification, with the guidance from the experts at MSPAlliance, allowed us to review and improve our internal systems."
ATLANTA (PRWEB) October 20, 2020
ProviDyn, Inc., a provider of IT support, strategy and services for small and medium-sized businesses and nonprofits today announced that it has successfully completed the MSPAlliance's MSP Verify Program (MSPV) certification process, the oldest certification program for cloud computing and managed services providers. The MSPV is based on the Unified Certification StandardTM (UCS) for Cloud and Managed Service Providers and developed by the International Association of Cloud and Managed Service Providers.
"The MSPV certification is a rigorous process that benchmarks and verifies the quality of the company providing cloud and/or managed services," said Celia Weaver, MSPAlliance® president. "We are very proud to have ProviDyn as a member of this elite community of MSPs and cloud providers."
MSP Verify Program
The UCS consists of 10 control objectives and underlying controls that constitute crucial building blocks of a successful managed services (and cloud computing) practice. Once the provider's organization has completed all MSPV documentation on all applicable control objectives (with the assistance of MSPAlliance's readiness assessments, gap analysis, helpful templates, and consulting) the results are then examined by an independent third-party accounting firm for verification and signing of a public facing report.
As with any other certification of this type, the MSPV certification must be renewed annually. The MSPV was the first certification created specifically for the managed services and cloud industry. The MSPV has been reviewed by governmental agencies and regulatory bodies across the globe and is used and accepted in 5 continents around the world.
Customers who select a company that is part of the MSPV can also rest assured that their IT solution provider has met and exceeded the following standards dealing with:

Objective 1: Governance,
Objective 2: Policies and Procedures,
Objective 3: Confidentiality and Privacy,
Objective 4: Change Management,
Objective 5: Service Operations Management,
Objective 6: Information Security,
Objective 7: Data Management,
Objective 8: Physical Security,
Objective 9: Billing and Reporting,
Objective 10: Corporate Health.
ProviDyn Director of Client Strategy Anita Marco proudly noted, "ProviDyn is a trusted partner with our clients. The best way to support that trust is to continuously improve our internal process and procedures to ensure we are protecting the client and working efficiently. The process of achieving this certification, with the guidance from the experts at MSPAlliance, allowed us to review and improve our internal systems. The fact that a third party audits the results provides assurance to our clients that ProviDyn has the processes and tools in place to support their organizations."
ABOUT PROVIDYN
ProviDyn provides technology expertise, services, and support to help small and mid-sized organizations sustain growth and strengthen performance. Backed by technology experts, ProviDyn helps organizations gain the full benefits of existing technology, make strategic investments in implementing new technology and maintain an infrastructure that is secure, reliable, and flexible. ProviDyn offers managed services, mobile computing, IT strategy, virtualization, cloud computing, business continuity, network security and IP telephony. To learn more about how ProviDyn is driving business through technology and helping companies reduce costs, improve efficiency, and maximize productivity, visit http://www.providyn.com.
ABOUT MSPALLIANCE
MSPAlliance® is a global industry association and accrediting body for the Cyber Security, Cloud Computing and Managed Services Provider (MSP) industry. Established in 2000 with the objective of helping MSPs become better MSPs. Today, MSPAlliance has more than 30,000 cloud computing and manage service provider corporate members across the globe and works in a collaborative effort to assist its members, along with foreign and domestic governments, on creating standards, setting policies, and establishing best practices. For more information, visit http://www.mspalliance.com/