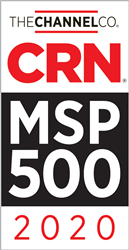 "We are delighted to be recognized again as a leader in the managed services industry, particularly in CRN's Pioneer 250 category, says Hamish Davidson, CEO of ProviDyn, Inc.
ATLANTA (PRWEB) February 20, 2020
ProviDyn®, a provider of IT support, strategy and services for small and medium-sized businesses and nonprofits, announced that CRN®, a brand of The Channel Company has named ProviDyn® to its 2020 Managed Service Provider (MSP) 500 list in the Pioneer 250 category. This popular list identifies North American solution providers that deliver operational efficiencies, IT system improvements, and a higher rate of return on investments for their clients. These accomplished MSPs work tirelessly to guide their clients and create solutions to drive business growth and reduce cyber risk.
This annual list is divided into three categories: the MSP Pioneer 250 who are focused primarily on the SMB market; the MSP Elite 150, large data center-focused on- and off-premises; and the Managed Security 100 made up of off-premises-focused, cloud-based IT security services.
"We are delighted to be recognized again as a leader in the managed services industry, particularly in CRN's Pioneer 250 category, says Hamish Davidson, CEO of ProviDyn, Inc. It's an honor to serve as a trusted strategic advisor to so many businesses that require our stewardship of their digital assets. These partnerships keep everyone energized and reinforce the positive and proactive nature of our corporate culture. It also fuels our drive for continuous improvement."
"MSPs are the critical bridge for customers looking to assess, implement and migrate their IT and cloud solutions to drive efficiencies, lower costs and secure your environment," said Bob Skelley, CEO of The Channel Company. "On behalf of our team at The Channel Company, I want to congratulate the accomplished companies on CRN's 2020 MSP 500 list and thank them for their commitment to finding innovative solutions that move the IT channel forward."
"Embracing cloud, cyber security solutions and new emerging technologies serves our clients well, says ProviDyn Solution Advisor Jed Fearon. He continued, "We're constantly on the lookout for ways to innovate. And keep our clients ahead of the curve."
The MSP500 list will be featured in the February 2020 issue of CRN and online at http://www.crn.com/msp500.
About ProviDyn®
ProviDyn provides technology expertise, services and support to help small and mid-sized organizations sustain growth and strengthen performance. Backed by technology experts, ProviDyn helps organizations gain the full benefits of existing technology, make strategic investments in implementing new technology and maintain an infrastructure that is secure, reliable and flexible. ProviDyn offers managed services, mobile computing, IT strategy, virtualization, cloud computing, business continuity, network security and IP telephony. To learn more about how ProviDyn is driving business through technology and helping companies reduce costs, improve efficiency and maximize productivity, visit http://www.providyn.com.
About The Channel Company
The Channel Company enables breakthrough IT channel performance with our dominant media, engaging events, expert consulting and education, and innovative marketing services and platforms. As the channel catalyst, we connect and empower technology suppliers, solution providers, and end-users. Backed by more than 30 years of unequaled channel experience, we draw from our deep knowledge to envision innovative new solutions for ever-evolving challenges in the technology marketplace. http://www.thechannelco.com
Copyright ©2020. CRN is a registered trademark of The Channel Company, LLC. All rights reserved.
The Channel Company Contact:
Jennifer Hogan
The Channel Company
jhogan@thechannelcompany.com