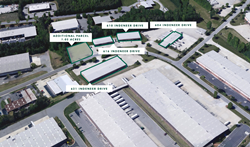 This is a really well-maintained park and we were fortunate to be able to acquire it.
CHAPEL HILL, N.C. (PRWEB) September 29, 2020
Prudent Growth Partners, LLC, a Chapel Hill, NC based private equity real estate firm, has completed its $2.85 million acquisition of a 51,450 square foot industrial park located at 604-621 Indeneer Drive, Kernersville, NC.
The Indeneer buildings are located along the bustling I-40 Corridor in Forsyth County, part of North Carolina's growing Triad region. The buildings are 100% leased to Sunbelt Furniture Xpress, Carolina Services of the Triad, CrossFit FirePit, MRC Fabrication and Artwear Embroidery.
"This was another great industrial purchase for PGP, and it helped us complete a 1031-exchange involving the sale of similar property in Wake County," said Tom Hahn, President of Prudent Growth Partners. "This is a really well-maintained park and we were fortunate to be able to acquire it."
In a separate transaction, PGP also acquired a Family Dollar store in Fairmont, NC and a Dollar General store in Darlington, SC.
"We made a decision as a firm to start constructing small portfolios of 'essential businesses' such as dollar stores, auto parts stores, and other retailers who have done very well during the COVID shutdowns - and who tend to outperform in a slowing economy," said Hahn. "We are planning on doing more of these, and have a 5-location deal that will be closing in early October."
Prudent Growth Partners, LLC is a private equity real estate investment company based in Chapel Hill, NC. The firm focuses on properties that tend to be overlooked by larger institutions and which provide exceptional returns on invested capital along with the possibility of longer-term capital gains achieved by expert management and future price appreciation.