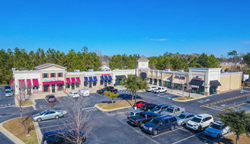 CHAPEL HILL, N.C. (PRWEB) October 16, 2019
Prudent Growth Partners, LLC, a Chapel Hill, NC based private equity real estate firm, has completed its acquisition of the Olde Towne at Berwick retail center, a 29,000 square foot Kroger-shadowed shopping center in the fast growing eastern Savannah neighborhood of Berwick. The transaction price was $5.45 million, and just under $2.0 million was raised from its equity investors to complete the purchase.
Olde Towne at Berwick, which shares a parking lot with a neighboring Kroger, has many popular local tenants, including Anytime Fitness, State Farm, Mexicali Fresh, and Marco's
Pizza. The shopping center is located at 50 Berwick Blvd, Savannah, GA.
"We have been looking at several deals in Georgia this year and are thrilled with this purchase," said Tom Hahn, President of PGP. "This is a beautiful neighborhood center in a high-traffic location, and should benefit from the continued growth in the area."
Prudent Growth Partners, based in Chapel Hill, NC, acquires neighborhood retail centers, office buildings, and garden style apartment communities. "We are always looking for properties like Olde Towne at Berwick, which are in growing areas with businesses that are well established and supported by the local residents," said Hahn.
Prudent Growth has been on a buying spree lately, with this purchase coming on the heels of their purchase of the Zebulon Crossings center in Wake County, NC and the Oakbrook Town Center in Florence, KY, both picked up in September.
Prudent Growth Partners, LLC is a private equity real estate investment company based in Chapel Hill, NC. The firm focuses on properties that tend to be overlooked by larger institutions and which provide exceptional returns on invested capital along with the possibility of longer-term capital gains achieved by expert management and future price appreciation.