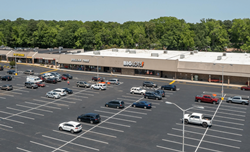 "We are excited about purchasing Heritage Square. This is another good addition for our investors and a nice portfolio expansion into coastal Virginia." - Tom Hahn, President of Prudent Growth Partners, LLC
CHAPEL HILL, N.C. (PRWEB) December 13, 2022
Prudent Growth Partners, LLC, a Chapel Hill, NC based private equity real estate firm, has completed its $8.1 million purchase of Heritage Square, a neighborhood shopping center located at 4318 George Washington Memorial Highway in Yorktown, VA.
The property boasts a variety of national and local retailers, including Big Lots and Dollar Tree. It is located in the heart of York County, approximately five miles north of Newport News and 20 miles southwest of Williamsburg. Heritage Square has a complimentary tenant base and offers a combination of current cash flow stability and upside for future increases.
With visibility and accessibility bolstered by two signalized intersections, Heritage Square has an advantageous position along George Washington Memorial Highway, exposing the property to 49,000 vehicles per day. The center is currently 96% occupied and has a lineup that features 14 tenants including a healthy mix of restaurant, retail, health, beauty, and service-oriented businesses.
"We are excited about purchasing Heritage Square and another acquisition in Virginia. The property has an encouraging occupancy record and is in a desirable location," said Tom Hahn, President of Prudent Growth Partners. "We believe this is another good addition for our investors and a nice portfolio expansion into coastal Virginia."
Prudent Growth Partners, LLC is a private equity real estate investment company based in Chapel Hill, NC. The firm focuses on properties that tend to be overlooked by larger institutions and provide exceptional returns on invested capital along with the possibility of longer-term capital gains achieved by expert management and future price appreciation.