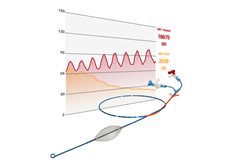 The PROMPT Study will give the trauma community the most compelling data yet on where Partial REBOA using pREBOA-PRO will fit in their toolkit to improve patient outcomes and save lives.
SAN ANTONIO, Texas (PRWEB) March 16, 2023
Prytime Medical Inc, The REBOA Company™, the leading innovator and global provider of lifesaving REBOA products for noncompressible truncal hemorrhage (NCTH), announced today it has been selected by the U.S. Army Medical Research and Development Command (USAMRDC) to receive nearly $6 million from the U.S. Department of Defense awarded through the Medical Technology Enterprise Consortium (MTEC) to study the clinical utility of Partial REBOA at 8 trauma centers across the United States and Canada using the world's first catheter designed for Partial REBOA, pREBOA-PRO™
"Partial REBOA delivered with pREBOA-PRO is measurably different from complete or intermittent REBOA procedures," said David Baer, PhD, Prytime Medical's Chief Scientific Officer & Military Liaison. Baer continued, "We have seen excellent early results from the first 14 trauma centers currently using pREBOA-PRO™ in North America. Thanks to the USAMRDC grant, the PROMPT Study will provide the trauma community with in-depth clinical data quantifying the patient benefits of Partial REBOA using pREBOA-PRO™."
"This catheter was designed specifically to deliver True Partial REBOA," said David Spencer, Prytime Medical CEO. "Time is the enemy for trauma surgeons managing hypotensive patients. The trauma community has consistently asked for an easy way to provide Partial REBOA to break the 30-minute barrier. With this catheter, you don't have to be a REBOA Jedi to attempt Partial REBOA."
Spencer continued, "Importantly, this new catheter provides direct central aortic pressure monitoring, which is a critical need for safely performing Partial REBOA. By providing central aortic pressure monitoring, this catheter measures core values, giving real-time information during the procedure about the pressure perfusing the patient's heart, lungs, and brain. Results from the first 14 centers show how often the peripheral pressure can vary markedly from actual core pressure in a hypovolemic patient. Capturing these evolving and now readily available Partial REBOA data is the exact purpose of this study."
Baer continued, "Partial REBOA is a great example of the ongoing positive impact of military medical innovation on civilian health care. This study is an opportunity for the civilian trauma care community to deepen the development of data and best practices for safe and effective use of Partial REBOA in the civilian and military settings."
Baer concluded, "For both military and civilian physicians, there is an urgent need for more tools to help manage the hypotensive patient suffering from non-compressible truncal hemorrhage. The PROMPT Study will give the trauma community the most compelling data yet on where Partial REBOA using pREBOA-PRO™ will fit in their toolkit to improve patient outcomes and save lives."
About The PROMPT Study
The Partial REBOA Outcomes Multicenter ProspecTive (PROMPT) Study is the first large-scale multicenter prospective study for Partial REBOA. Most studies on Partial REBOA to date have been animal studies, small human enrollment studies, and/or retrospective. The PROMPT Study will enroll 340 subjects over a 24-month period. There are four key endpoints for the study: 1. Time of occlusion 2. Ischemic markers 3. Tolerance to reperfusion 4. Blood product use. The lead site will be Vanderbilt University Medical Center and will begin enrolling soon. Additional sites will be announced soon.
About Prytime Medical Devices, Inc.
Prytime Medical™ Devices, Inc. is an innovative medical device company that designs, develops, and commercializes minimally invasive solutions for hemorrhage control. The underlying intellectual property for REBOA was conceived based on lessons learned in war. Our latest innovations, the industry leading ER-REBOA PLUS™, and the innovative pREBOA-PRO™ Partial REBOA Catheter, enable truncal hemorrhage control with more controlled resuscitation in a much wider range of clinical scenarios. pREBOA-PRO™ is the first FDA-cleared REBOA catheter designed specifically for True Partial REBOA™. More information can be found at http://www.PrytimeMedical.com
About U.S. Army Medical Research and Development Command:
The U.S. Army Medical Research and Development Command is the Army's medical materiel developer, with responsibility for medical research, development, and acquisition. USAMRDC produces medical solutions for the battlefield with a focus on various areas of biomedical research, including military infectious diseases, combat casualty care, military operational medicine, medical, chemical and biological defense. https://mrdc.amedd.army.mil/
About MTEC:
The Medical Technology Enterprise Consortium is a 501(c)(3) biomedical technology consortium that is internationally-dispersed, collaborating with multiple government agencies under a 10-year renewable Other Transaction Agreement with the U.S. Army Medical Research and Development Command. The consortium focuses on the development of medical solutions that protect, treat, and optimize the health and performance of U.S. military personnel and civilians. To find out more about MTEC, visit mtec-sc.org
Disclaimer:
The views expressed in this news release/article are those of the authors and may not reflect the official policy or position of the Department of the Army, Department of Defense, or the U.S. Government.