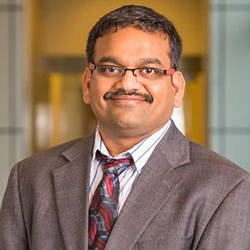 "I am so honored and energized to be promoted as the CEO of PS Technology, PST has a great business model and a fantastic leadership team. I'm deeply impressed with the unity and commitment of the entire PST team in finding ways to serve our customers better."
LOUISVILLE, Colo. (PRWEB) November 05, 2021
PS Technology, a leading global provider of cutting-edge software-based railroad solutions, today announced that Srinivas (Seenu) Chundru has been named as Chief Executive Officer.
Seenu is an accomplished leader with a proven track record of integrating technology and resources with a business strategy to increase organizational effectiveness. As President of PST, he drove transformation and revenue growth by productizing and commercializing new and emerging technology solutions. Before joining PS Technology in January of 2012, he led teams that provided cutting-edge technical solutions to a multitude of business problems in various areas at Union Pacific Railroad.
Before joining Union Pacific in 2002, he worked as a software consultant in the Transportation and Healthcare industries for eight years. He served as an adjunct Professor of Computer Science at the University of Nebraska at Omaha and Webster University in St. Louis. He holds a Bachelor's as well as a Master's degree in Computer Science.
"I am so honored and energized to be promoted as the CEO of PS Technology," said Seenu. "PST has a great business model and a fantastic leadership team. I'm deeply impressed with the unity and commitment of the entire PST team in finding ways to serve our customers better. Being able to help guide such a forward-looking company into the future is both exciting and daunting. PST is all set to play a vital role in supply-chain digitization through our products and services."
"Seenu Chundru is the right leader for PS Technology," said Rahul Jalali, CIO, Union Pacific Railroad, and Chair of the Board of Directors for PST. "His extensive background in building and selling Transportation solutions as well as business development skills should help PST strengthen channel partnerships, develop strategic alliances and expand our international sales presence. We believe his strong leadership experience will help focus PST as they work on increasing their profitability."