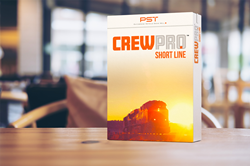 Deploying (CrewPro Short Line) on Oracle Cloud Infrastructure lets us deliver top-tier solutions in a way that short line railroads can begin using virtually immediately.
LOUISVILLE, Colo. (PRWEB) April 04, 2019
PS Technology, the only provider of CrewPro Short Line™ Crew Management software and Gold level Oracle PartnerNetwork (OPN) member, announced today that its CrewPro Short Line has achieved Powered by Oracle Cloud status and is now available in the Oracle Cloud Marketplace. CrewPro Short Line allows the automation and precision of modern crew management without the expense of an on-premise solution or the technical expertise needed to maintain such systems.
"Oracle Cloud is an integral part of CrewPro Short Line," said PS Technology President, Seenu Chundru. "Deploying on Oracle Cloud Infrastructure lets us deliver top-tier solutions in a way that short line railroads can begin using virtually immediately."
Current CrewPro Short Line customers are seeing significant gains, savings and efficiencies with cloud served crew management.
"PS Technology's participation in the Oracle Cloud Marketplace further extends our commitment to the short line community and enables customers to easily reap the benefits of CrewPro. We look forward to leveraging the power of Oracle Cloud to help us, and our customers, achieve our business goals," Chundru said.
The Oracle Cloud Marketplace is a one-stop shop for Oracle customers seeking trusted business applications and service providers offering unique business solutions, including ones that extend Oracle Cloud Applications. Oracle Cloud is the industry's broadest and most complete public cloud, delivering enterprise-grade services at every level of the cloud technology stack, including platform as a service (PaaS), infrastructure as a service (IaaS) and data as a service (DaaS).
"The cloud represents a huge opportunity for our partner community," said David Hicks, Vice President, Worldwide ISV Cloud Business Development, Oracle. "PS Technology's commitment to innovation with Oracle Cloud and its track record of quality execution help our mutual customers receive cloud-enabled CrewPro solutions ready to meet critical business needs."
Powered by Oracle Cloud status recognizes OPN member solutions that have been tested or verified to run on Oracle Cloud Infrastructure. This achievement offers customers the confidence that the partner's application is supported by the Oracle Cloud Infrastructure Service Level Agreement, ensuring they have full access and control over their cloud infrastructure services as well as consistent performance.
The Oracle Cloud Marketplace offers an intuitive user interface to browse and search for available applications and services, as well as user ratings and reviews to help customers determine the best business solutions for their organization. With its new automated application installation features, customers can easily deploy provider business applications from a centralized cloud interface.
About PS Technology
PS Technology is committed to delivering significant and measurable returns to its clients and partners. For over three decades, PST has improved the processes and systems surrounding crew management, timekeeping and physics-based simulation solutions with integrity and a desire to create value.
PST's asset management systems power the largest railroads in North America. PST's crew management and timekeeping solutions have been used to manage the day-to-day operations of over 100,000 employees that run, maintain and support rail operations across more than 120,000 miles of rail. PST's physics-based simulation solutions provide a premium learning environment.
About Oracle PartnerNetwork
Oracle PartnerNetwork (OPN) is Oracle's partner program that provides partners with a differentiated advantage to develop, sell and implement Oracle solutions. OPN offers resources to train and support specialized knowledge of Oracle's products and solutions and has evolved to recognize Oracle's growing product portfolio, partner base and business opportunity. Key to the latest enhancements to OPN is the ability for partners to be recognized and rewarded for their investment in Oracle Cloud. Partners engaging with Oracle will be able to differentiate their Oracle Cloud expertise and success with customers through the OPN Cloud program – an innovative program that complements existing OPN program levels with tiers of recognition and progressive benefits for partners working with Oracle Cloud. To find out more visit: http://www.oracle.com/partners.
Trademarks
Oracle and Java are registered trademarks of Oracle and/or its affiliates.
PST and PS Technology are registered trademarks of PS Technology.
For more information, contact:
Mark Bremmer
Senior Marketing Manager
PS Technology
303.527.2111
http://www.pstechnology.com