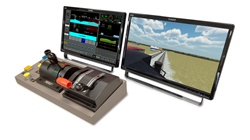 "PST's addition to our RTE Virtual Reality Lab will help heighten our students' experience of rail education and will help them build the skills and knowledge needed to take on real-world challenges in the rail industry."
LOUISVILLE, Colo. (PRWEB) February 05, 2019
PS Technology (PST) and Penn State Altoona today announced a joint effort to enhance the college's program in Rail Transportation Engineering (RTE).
To help RTE students more thoroughly understand the real-world implications and requirements of Positive Train Control (PTC), PST will contribute their PTC Prime product, a training solution used by multiple railroads in North America.
PTC Prime includes self-guided training and interactive locomotive simulations that expose students to the engineer-operations focus of the Federal Railroad Administration's PTC requirements. The system automatically instructs, scores, and records students' training results.
"Penn State Altoona's RTE program will help propel the rail industry into the future," said PST president Seenu Chundru. "Offering the nation's first and only Bachelor of Science degree program in Rail Transportation Engineering, we are encouraged by the college's commitment to excellence, innovation, and technology. We are proud to contribute to this program and to help provide students an enhanced, premium experience."
Toni Feret, associate director of Development and Alumni Relations at Penn State Altoona said, "PST's addition to our RTE Virtual Reality Lab will help heighten our students' experience of rail education and will help them build the skills and knowledge needed to take on real-world challenges in the rail industry."
About PS Technology
PS Technology is committed to delivering significant and measurable returns to its clients and partners. For over three decades, PST has improved the processes and systems surrounding crew management, timekeeping and physics-based simulation solutions with integrity and a desire to create value.
PST's asset management systems power the largest railroads in North America. PST's crew management and timekeeping solutions have been used to manage the day-to-day operations of over 100,000 employees that run, maintain and support rail operations across more than 120,000 miles of rail. PST's physics-based simulation solutions provide a premium learning environment.
About Penn State's Rail Transportation Engineering Program
Penn State Altoona offers the nation's first and only bachelor of science degree program in Rail Transportation Engineering (RTE). Students gain in-depth engineering and mathematics education required to meet the challenges facing today's railroad industry. With a worldwide resurgence in rail transportation over the last several decades, Penn State Altoona educates the next generation of railroad engineering professionals.