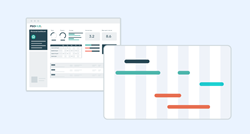 360-degree project management is a core functionality that sets PSOhub apart from the Trellos and the ClickUps of this world
NEW YORK (PRWEB) October 27, 2020
PSOhub announces today the launch of Version 1.5 of their self-driving and predictive PSA (professional services automation) software. Since the product launch in June 2020, businesses in 45 countries have adopted PSOhub, including over 200 installs through the HubSpot App Marketplace.
PSOhub provides customer-centric, self-driving project management software tailored to professional services including marketing agencies, IT professionals, financial services, and architects.
To provide a more efficient and personalized experience, PSOhub's new features in Version 1.5 include a resources dashboard, smart invoicing customization, calculation sheet, improved browser-enabled time tracking, integration with invoicing software XERO, and more. The new features in Version 1.5 provide more visibility and additional functionality to help users manage their projects from a 360-degree angle.

Calculation sheet: Further ease the handoff from sales to project management by calculating budget directly from PSOhub's contract management line items.
Project task board: Use familiar Kanban-style boards to manage tasks, including external views to easily share progress with clients.
Project planning: Visualize all tasks and assignments using PSOhub's new Gantt chart.
Resources dashboard: Manage team utilization targets and improve resources allocation.
Based on feedback from small and large teams alike, organizations will now get increased value from the platform as Version 1.5 of PSOhub can leverage more predictive insights to empower decision-making.
PSOhub envisions and employs a highly visible, circular model of project management with brilliant people, self-driving tech, and key integrations at its core.
"Part of the PSOhub vision is that you can always integrate with another tool when needed. But 360-degree project management is a core functionality that sets us apart from the Trellos and the ClickUps of this world," says Martijn van der Hoeden, Founder & CEO of PSOhub.
By 2030, an estimated 80% of routine project management tasks will be eliminated via collaboration of AI and human beings. Currently, the major purchasing factors for project management software include functionality (40%) and ease of use (24%), both of which are optimized in PSOhub Version 1.5.
About PSOhub
PSOhub is on a mission to be the global leader in thoughtful, self-driving professional services automation. With 30+ years experience building PSA Software, PSOhub is dedicated to creating solutions that empower small businesses to achieve their ambitions by working smarter.
Learn more about PSOhub at https://www.psohub.com/.