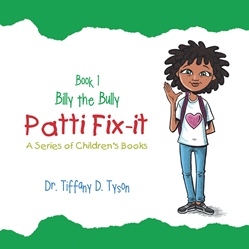 This book is loosely based on my life as a middle school kid, helping my friends with their problems.
WILSON, N.C. (PRWEB) November 04, 2019
Dr. Tiffany D. Tyson has published the exciting first installment in her new Patti Fix-it children's series. In "Book 1: Billy the Bully," readers are introduced to Patti Fix-it, a self-described "Rainbow Child" and veggie lover. Patti has the special gift of making people feel better – so much so that her friends tend to seek her out when they have a problem that needs fixing.
"Billy the Bully" follows Patti as she creates positive change in a tense situation at the neighborhood playground and shares with young readers important messages about standing up for oneself, celebrating uniqueness and building strong and powerful friendships.
"This book is loosely based on my life as a middle school kid, helping my friends with their problems," Dr. Tyson said. "I remember being bullied in middle school over my lunch money – another girl, who was bigger than me, would take my lunch money every day to buy ice cream for herself.
"One day, a male student witnessed the entire incident, approached the girl and told her to give my lunch money back and stop harassing me. After that day, the bullying ended. I felt empowered and my confidence increased – as a result, I was able to help other kids. My hope is that this book provides a similar boost in esteem and stewardship to young readers."
Ultimately, "Billy the Bully" encourages communication skills, bravery and community leadership among children, tweens and teens and educates them on how to stand up to a bully for themselves or someone else. The book also provides parents and educators with an important tool to help them start conversations with their young ones about difficult topics like bullying, obesity, anxiety and violence.
"Patti Fix-it: A Series of Children's Books, Book 1: Billy the Bully"
By Dr. Tiffany D. Tyson
ISBN: 978-1-7283-0855-5 (softcover); 978-1-7283-0854-8 (e-book)
Available through AuthorHouse, Barnes & Noble and Amazon
About the author
Dr. Tiffany D. Tyson is a psychiatry doctor, author, serial innovator and avid social activist. She earned her bachelor's degree in nursing from Barton College, master's degree in nursing from Duke University and doctorate degree in mental health from Robert Morris University. A North Carolina native, Dr. Tyson is passionate about helping young girls overcome social issues like low self-esteem, bullying, peer pressure and substance abuse. Through her organization, Tyson Multimedia Inc., Dr. Tyson empowers women and young girls using innovative methods such as motivational speaking, art, literature, drama, STEAM (science, technology, engineering, art and math) and music. Because of her own multi-ethnic background, issues concerning cultural diversity and norms are topics close to Dr. Tyson's heart. Her books ("Urban Princess," "Patti Fix-it") portray characters of all nationalities, walks of life and backgrounds in order to motivate others to achieve their dreams regardless of where they live or what they look like. Dr. Tyson currently resides in Wilson, N.C., and practices in Rocky Mount, N.C. To learn more, please visit http://www.tysonmultimedia.com and follow the author on Facebook, Twitter, Instagram and YouTube. An interview with Dr. Tyson can be viewed here.
General Inquiries, Review Copies & Interview Requests:
LAVIDGE – Phoenix
480-648-7557
dgrobmeier@lavidge.com