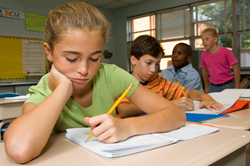 Within 1 week of him using the pencils I ordered from Lefty's at home and at school his writing has improved 200%!! He enjoys writing now and doesn't object to homework or writing projects. - Parent of a Left-Handed Kid writing to thelefthandstore.com
San Francisco, CA (PRWEB) August 19, 2014
PTAs have started to buy left-handed school supplies. Thelefthandstore.com has a growing group of PTA customers as parents help cash-strapped schools.
Left-handed school supplies - including left-handed scissors, pens and pencils, notebooks, and rulers - can make an enormous difference in the learning process and speed for left-handed kids. Some studies show that left-handed kids numbers are increasing. Other studies show that left-handers are more often afflicted with dyslexia. Yet schools often lack left-handed supplies, especially scissors.
Thelefthandstore.com is the largest supplier of left-handed school supplies. They have developed essential materials for young lefties, including left-handed writing and shoe tying guides in addition to the left-handed school supplies that make such a difference to lefty students.
Testimonials pour in each year from parents who find that their lefty kids who struggled with school suddenly find they love it. Older students have reported that left-handed products help them "think better". While most lefties can eventually adapt and manage to use right-handed scissors, there is a critical delay in fine motor development, and the dexterity is never as good. A similar delay occurs with learning to write, though proper instruction and writing implements can make an enormous difference.
As most teachers are right-handed, lefty kids often lack not only tools but role models and understanding. If the parents and siblings are right-handed, a lefty kid can be totally lost.
As schools become more and more cash-strapped, PTA's attempt to help in significant ways. Left-handed school supplies are not expensive, but they can be life savers, especially in the developmentally critical early elementary school years.
See thelefthandstore.com's school supplies online, or visit Lefty's retail stores at Pier 39, San Francisco, Downtown Disney at Walt Disney World Resorts, or Old Town Kissimmee in Florida.