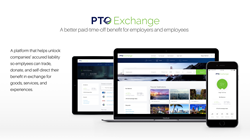 "We've spent the last few years architecting a solution that will enable employers to give their employees more ownership over their traditional paid time off benefits in a way not possible before."
WOODINVILLE, Wash. (PRWEB) August 20, 2019
The world's only comprehensive flexible benefits platform and a Gartner Cool Vendor, PTO Exchange, today announced it has secured $3 million in seed funding by WestRiver Group, an investment firm for the global innovation economy.
PTO Exchange has the only patented solution in the U.S. that allows employees to apply the value of their unused paid time off (PTO) to a range of priorities -- from paying down student loan debt, covering an unexpected emergency expense to donating to a favorite charity or funding vacation costs. The company's platform is also the only one today that addresses the multitude of tax laws so employees can access this asset without any adverse tax consequences -- avoiding a potentially significant set of problems for workers and employers alike.
"Several years ago, we saw a critical element missing in the future of work, so we've spent the last few years architecting a solution that will enable employers to give their employees more ownership over their traditional paid time off benefits in a way not possible before," said PTO Exchange Co-founder and CEO Rob Whalen.
"Companies that embrace offering flexibility and alternative benefit solutions will thrive as they attract, engage and retain top workers, thereby winning the war for talent," continued Whalen.
The new funding will allow the company to continue its mission to disrupt the benefits landscape, including:

Leveraging the U.S.'s only patented platform that integrates into various student loan repayment or refinancing merchants
Giving employees a way to use their accrued productivity or PTO in emergencies, instead of withdrawing funds from their 401(k)s or taking payday loans
Providing employers with the ability to stay compliant with federal and state regulations including tax requirements, as PTO Exchange is the only platform that is compliant in all fifty states
"The ability to help employers unlock literally billions of dollars in untapped value for today's workforce is long overdue. PTO Exchange's innovative solution brings simplicity to an otherwise complex problem making it possible for workers to redirect these assets to where they can have the most impact for themselves and their families," said Anthony Bontrager, Managing Director at WestRiver Group and PTO Exchange board member.
About PTO Exchange
PTO Exchange empowers employees to personalize their workplace benefits. For the first time ever, employees can convert unused paid time off into tangible goods and services, including vacations, retirement funding, student loans and charitable donations. The only patented solution in the U.S., PTO Exchange is compliant in all fifty states. For more information, visit ptoexchange.com.
About WestRiver Group (WRG)
WestRiver Group (WRG) is a collaboration of leading investment firms that provides integrated capital solutions to the global innovation economy. The Kirkland, Wash., based venture firm has investment platforms in technology, life sciences, energy, and experiential sectors. For more information, visit wrg.vc.