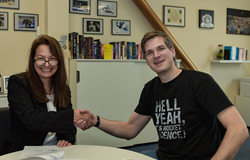 "Humanity's first steps on the Moon memorialize the universality of our species, our unrelenting need to explore and our incredible capacity for innovation and technological achievement."
BERLIN (PRWEB) December 11, 2018
PTScientists, a German private space company aiming to be the first private mission to land on the Moon, and For All Moonkind, the only organization in the world focused on preserving human heritage in outer space, today announced that PTScientists has become the first organization to execute the Declaration of Objectives and Agreements Regarding Cultural Heritage in Outer Space. The Declaration recognizes the existence of human cultural heritage sites in outer space and seeks the implementation of certain preliminary steps to manage and balance preservation goals with exploration of space and utilization of space resources.
Sites in outer space which contain human artifacts – like the site where Luna 2, the first human-made object to reach another celestial body impacted the Moon in September 1959 and Tranquility Base, where Neil Armstrong and Buzz Aldrin left humanity's first off-world footprints – are vulnerable to destruction and damage because they are not protected or even recognized as heritage sites by any international law, agreement, regulation, principle or guideline. "This is untenable," said Michelle Hanlon, Co-Founder of For All Moonkind, "especially given the number of return missions that are currently planned for the Moon by both governmental and commercial entities."
"Humanity's first steps on the Moon memorialize the universality of our species, our unrelenting need to explore and our incredible capacity for innovation and technological achievement," Hanlon continued. "The traces of our first missions to the Moon deserve the same respect, attention and protection as any evidence of human achievement, like the Pyramids of Egypt, Museum Island in Berlin or the Pueblo Cave Dwellings in Mesa Verde. In signing this Declaration, PTScientists has embraced its corporate responsibility, not just to our generation, but to our future."
"We pledged our support to For All Moonkind more than one year ago," said Robert Boehme, CEO of PTScientists. "We are delighted to follow up with this formal document – and hope our New Space peers and 'Old Space' muses will join us in this important effort to preserve the history that clearly inspired all of us to reach for the Moon and stars," Boehme continued. "By taking responsibility for preservation without waiting for government regulations, we will demonstrate our industry's collective willingness to be held accountable for our own space activities."
The Declaration of Objectives and Agreements Regarding Cultural Heritage in Outer Space is open for signature. Since the preservation of history affects all of humanity, PTScientists and For All Moonkind encourage all commercial entities, nongovernmental organizations, academic institutions and governmental agencies, to execute the document whether or not they are actively planning any space activities.
###
About PTScientists
PTScientists is a German private space company, headquartered in Berlin. Their first lunar mission, Mission to the Moon, aims to send two Audi lunar quattro rovers to the lunar surface, to the Taurus-Littrow Valley. Using one of the rovers the team will carefully approach the site of the original lunar roving vehicle, and will work closely with NASA to ensure that they don't disturb any sites of potential interest for the future. They aim to be the first private mission to land on the Moon, and plan to launch in 2019 – which is also the 50th anniversary of Apollo 11 and the first humans on the Moon.
PTScientists is working with Key Technology Partners Audi (on the Audi lunar quattro Moon rover) and Vodafone Germany (for lunar surface communications). They will carry a range of scientific and artistic payloads to the Moon and conduct technology demonstrations on the lunar surface as well as visiting the Apollo 17 lunar roving vehicle.
About For All Moonkind, Inc.
For All Moonkind, Inc. is a 501(c)(3) non-profit organization that seeks to protect each of the six human lunar landing and similar sites in outer space as part of our common human heritage. Recently named a Permanent Observer to the United Nations Committee on the Peaceful Uses of Outer Space and a "Top Ten Innovator" in Space by Fast Company Magazine, we challenge the international community – sovereign nations, national space agencies and commercial entities – to join us in addressing the void left by current space law in respect of human heritage in space. Our entirely volunteer team of space lawyers, policymakers, scientists and communicators are working to develop reasonable and practical protocols that will balance development and preservation and include systems to select, manage and study relevant sites. In so doing, we seek to promote the exploration and development and open the debate on equally pressing issues of property and resource extraction. For more information, please visit http://www.forallmoonkind.org
Visit us on Facebook: https://www.facebook.com/ForAllMoonkind/
Follow us on Twitter: https://twitter.com/forallmoonkind; Instagram: https://www.instagram.com/forallmoonkindorg/ and Google+: https://plus.google.com/104997185756313545793