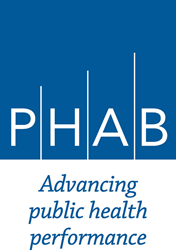 "During these unprecedented times of the COVID-19 pandemic, it is reassuring to know our community is served by a public health department that has demonstrated the capacity and ability to deal with this event." Jeff R. Coombs, Executive Director, Tooele County Health Department, Tooele, Utah
ALEXANDRIA, Va. (PRWEB) June 17, 2020
The Public Health Accreditation Board (PHAB) today announced the names of three public health departments that have successfully completed a rigorous review process to maintain their national accreditation status. In achieving the prestigious accreditation designation for five more years, the departments -- Crook County Health Department in Prineville, Oregon; Tooele County Health Department in Tooele, Utah; and Ventura County Public Health in Oxnard, Calif. -- have successfully demonstrated a commitment to continuously improve and advance, thereby becoming increasingly effective at improving the health of their communities.
PHAB, the nongovernmental, nonprofit organization that administers the national accrediting program, works to improve and protect the health of the public by advancing and transforming the quality and performance of governmental public health agencies in the United States and abroad.
"This week's accreditation decisions arrive in the midst of the most challenging time in modern public health history, with pandemics of infectious disease and systemic racism posing unprecedented threats to the health and safety of people and communities," said PHAB President and CEO Paul Kuehnert, DNP, RN, FAAN. "Maintaining accreditation through PHAB is steadfast proof that these health departments have demonstrated a consistent and continued commitment to collaborative efforts to keep their communities safe from diseases and injuries, promote good health, and protect them from hazards. We applaud them and congratulate them for their tireless work to assure that their communities will continue to reap the benefits of being served by a nationally accredited health department."
PHAB's national accreditation program, which launched in 2011 with support from the Centers for Disease Control and Prevention and the Robert Wood Johnson Foundation, has become the national gold standard for public health in the United States. To date, nearly 300 health departments – including state, Tribal, local and Army Installation Departments of Public Health – have achieved accreditation through PHAB, and the benefits of being served by a PHAB-accredited health department now extend to 82 percent of the U.S. population.
Commenting today on the reaccreditation of Tooele County Health Department in Tooele, Utah, Health Officer and Executive Director Jeff R. Coombs, MPH, LEHS, thanked the department's staff and community partners for their work to achieve and maintain accreditation status through PHAB. "During these unprecedented times of the COVID-19 pandemic, it is reassuring to know our community is served by a public health department that has demonstrated the capacity and ability to deal with this event," Coombs said.
In Oxnard, Calif., Ventura County Public Health Director Rigoberto Vargas, MPH, expressed gratitude to the department's "outstanding and diverse team of public health professionals dedicated to protecting health and promoting the well-being of all residents in Ventura County." Added Vargas: "We are especially proud to have been the first health department in California to have been accredited, and now to be the first to be reaccredited. Achieving reaccreditation, all while also responding to the COVID-19 pandemic, further demonstrates that indeed, Ventura County Public Health is a high-achieving department that's not just meeting, but largely exceeding, national standards for health department excellence."
To receive national accreditation through PHAB, a health department must undergo a rigorous, multi-faceted, peer-reviewed assessment process to ensure it meets nationally established public health quality standards and measures. PHAB-accredited health departments range in size from large state health departments serving tens of millions of people to small local health departments serving communities of fewer than 50,000 people.
Serving a population of fewer than 24,000 people, Crook County Health Department in Prineville, Oregon is the smallest of the three health departments to achieve reaccreditation status through PHAB this week. Speaking on behalf of the department's 25 employees, Director and Public Health Administrator Muriel DeLaVergne-Brown, RN, BSc, MPH, called the achievement "a great accomplishment" for all the staff. "It demonstrates our commitment to accountability, quality, and the importance of public health accreditation to improve everything we do. As a small public health department, it can be done, and it's worth it."
For more information, contact PHAB Communications Manager Teddi Nicolaus at (703) 778-4549, ext. 118, or via email at tnicolaus@phaboard.org. Learn more about PHAB and accreditation at http://www.phaboard.org. Be in the know: Subscribe to PHAB's e-newsletter!
About the Public Health Accreditation Board
The Public Health Accreditation Board (PHAB) was created to serve as the national public health accrediting body and is funded in part by the Centers for Disease Control and Prevention and the Robert Wood Johnson Foundation. The development of national public health accreditation has involved, and is supported by, public health leaders and practitioners from the national, state, local, Tribal, and territorial levels. For more information, email tnicolaus@phaboard.org.