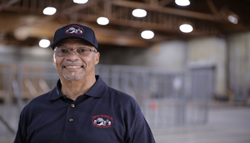 Arthur Shanks II, Executive Director of the Cypress Mandela Training Center (CMTC) passed away on December 29, 2019. A public memorial will be held on Saturday, January 18, 2020.
OAKLAND, Calif. (PRWEB) January 13, 2020
It is with great sadness that we inform you of the transition of Arthur Shanks II, Executive Director of the Cypress Mandela Training Center (CMTC) on December 29, 2019.
On behalf of the board of directors and staff, we extend our deepest sympathies to the Shanks family during this very difficult period. For more than 27 years, Art was a visionary who paved the way for developing ground breaking pre-apprenticeship green construction training and workforce development concepts for his community and beyond. Art developed lasting partnerships to help tackle complex issues, such as violence and crime associated with, poverty and literacy, with proven results across the nation. Art understood that providing quality and effective training, as well as access to high paying careers, would help to reduce crime and hopelessness while revitalizing underserved communities.
After a portion of Interstate 880 collapsed during the 1989 Loma Prieta earthquake, killing 42 people, the West Oakland communities that had been cut off from downtown businesses by the original freeway built in 1957, and who had faced decades of environmental justice issues, were determined to have a say in the re-building of the new freeway. The community looked for ways to participate in the location and design of the new freeway, but also for ways to benefit from the well-paying construction jobs that were being brought into the neighborhood.
The CMTC was formed as the premier training institution for pre-apprentice construction, and to provide well trained workers to transition into jobs on the new freeway construction, and gain direct entry into the trades. Art was recognized nationally as the "Godfather" of the Environmental Protection Agency's (EPA) for piloting the first ever Brownfields Job Training program. Peralta Community College District (Laney College) also partnered with Art to provide college credits earned while attending classes at CMTC as a means for students to continue their education.
He advocated for the underserved, disenfranchised, unemployed, returning citizens and young people to ensure meaningful pathways in the construction building trades, environmental, transportation and utility industries. Above all, Art was a devoted husband, father, brother, son and friend. We shall all miss him dearly in our daily lives.
Art Shanks ran a good race, fought to the end and has now entered in to eternal rest.
Effective immediately, the board of directors has named Eric Shanks, as interim Executive Director. The board of directors has full confidence in Eric Shanks ability to lead Cypress Mandela Training Center through this unexpected transition.
A public memorial will be held on Saturday, January 18th from 11am to 1am at Cypress Mandela Training Center, located at 977 66th Ave in Oakland, CA.
About Cypress Mandela Training Center
The CMTC is a community based organization dedicated to improving the lives of the people it serves by providing pre-apprentice construction and life skills training along with employment assistance.