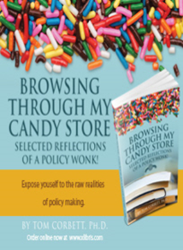 The travails of public policy making.
Madison, Wisconsin (PRWEB) November 13, 2014
In Browsing Through My Candy Store: Selected Reflections of a Policy Wonk, Thomas Corbett, Ph.D., brings to life what it is like to grapple with society's most enduring and difficult social problems. He describes the formidable barriers, but most importantly he shows how to overcome them. Over four decades, he helped turn cash welfare first into an entitlement and then worked to return welfare to a program focusing on underlying behaviors as opposed to simply alleviating economic want. At various times in his career, Corbett labored to bring welfare administration into the computer age, to update a deeply flawed official poverty measure, to improve the way we bring rigorous evidence to policy makers, to plan parts of President Clinton's welfare reform plan, to explore new research methods as the welfare world underwent unprecedented change, to advance the integration of disparate human services into a system that makes sense, and so much more.
Despite many battles, the author celebrates his policy life as a joyous adventure, difficult in the extreme but totally rewarding in the end. Success, he argues, is measured less by obvious victories and more by the sheer challenge of grappling with the wicked policy issues we face as a nation. So-called wicked issues are those where there is little consensus on ends, means, evidence, and values. They tend to endure over time and tax our political capabilities. He tells his story confronting such issues with a deft and light touch, bringing the characters to life with wit and sensitivity. It's story told by a policy wonk but accessible to all who care about this nation.
The author concludes, "If students were to find their way to my door and ask me if they should pursue a career doing policy, what would I say? I might just say the following: Well, if you care about the rules we live by, about everyone getting a fair shot in life, go for it. If you have guts, a high tolerance for pain, and can see the big picture, then let no one stand in your way. If you can imagine a just and more equitable world, permit nothing or no one to divert you from your vision."
Below are excerpts from initial reviews:
"If you truly want to understand how public policy works, read this book. (It) gives the reader a real take away…genuine insights into the discipline of public policy.
Mary Fairchild, Senior Fellow at the National Conference of State Legislators
"Corbett's stories from the front lines of policymaking, like All Quiet on the Western Front and The Things they Carry, provide great insights into the way the world actually works, not what the generals or policy planners think is happening."
Matt Stagner, Mathematica Policy Inc. and the Harris School, Univ. of Chicago
"…A valuable chronicle by a person who has been on the inside…much comes back as I read your observations."
Michael Wiseman, George Washington University
About the author:
Thomas Corbett, Ph.D., has emeritus status at the University of Wisconsin-Madison and remains an active affiliate as a Senior Scientist with the Institute for Research on Poverty where he served as Associate Director for a number of years until his retirement. He has a doctorate in Social Welfare from the University of Wisconsin-Madison and for a number of years taught Social Policy courses at the undergraduate and graduate levels in the School of Social Work. He has long studied social assistance systems that affect the well-being of disadvantaged families. In addition, he has explored methods for assessing program effectiveness and strategies for monitoring the status of vulnerable populations, including service on a National Academy of Sciences expert panel examining methods for evaluating contemporary welfare reform. He co-edited a book with Mary Clare Lennon titled Policy into Action: An Exploration of Methods to Evaluate the Implementation of Innovative Initiatives.In 2010 with Karen Bogenschneider hr published Evidence-Based Policymaking: Insights from Policy-Minded Researchers and Research-Minded Policymakers.. Over the years, he has worked on poverty-related policy issues at all levels of government, including a year as senior policy adviser at the U.S. Department of Health and Human Services where he worked on President Clinton's first welfare reform Bill and other policy issues. Among many other initiatives, he has worked with a number of senior state officials in the Midwest on various welfare reform issues through the Welfare Peer Assistance Network (WELPAN) and has consulted with numerous state and local sites in the U.S. and Canada who are developing integrated human service models in their jurisdictions.
Review Copies and Media Interviews:
For a review copy of Browsing through My Candy Store: Selected Reflections of a Policy Wonk or an interview with Tom Corbett, please contact the author at corbettirp@aol.com or call him at 608-852-3556. When requesting a review copy, please provide a complete mailing address.