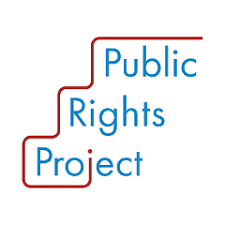 Access to contraception is essential for women and families' health, financial security, and wellbeing. Jill Habig, President & Founder, Public Rights Project
OAKLAND, Calif. (PRWEB) April 09, 2020
Public Rights Project, partnering with the Oakland City Attorney's Office, filed an amicus brief urging the U.S. Supreme Court to strike down two Trump Administration rules that would permit employers to refuse to provide contraceptive coverage to their employees and plan beneficiaries.
Submitted on April 8, the brief was co-led by the cities of Oakland and St. Paul, and was joined by 32 cities and counties from across the country.
The Supreme Court is reviewing a lower court decision that invalidated two rules initially issued in October 2017 and finalized in November 2018 creating broad religious and moral exemptions to the contraceptive mandate of the Affordable Care Act. Under implementing rules to the Women's Health Amendment of the ACA, employer-sponsored insurance plans -- which provide the majority of private insurance coverage in the country -- must cover all FDA-approved contraception at no cost to plan beneficiaries.
"The Trump Administration's rules undermine the will of Congress by allowing many employers to exempt themselves from covering essential health services, threatening to undermine public health in the middle of a pandemic." said Public Rights Project President & Founder Jill Habig. "Access to contraception is essential for women and families' health, financial security, and wellbeing."
The municipal brief argues that the moral exemption rule has no legal justification. Among other things, the brief contends that in other examples referenced by the federal agencies, Congress explicitly provided for both religious and moral exemptions. The ACA does not provide for either such exemption expressly, and the Religious Freedom Restoration Act, a federal law designed to protect religious freedoms, cannot support a rule meant to protect non-religious views.
"The Trump administration has wasted an inordinate amount of precious time and resources on reducing access to reproductive health care," Oakland City Attorney Barbara J. Parker said. "This administration's campaign to deprive women of access to contraceptives is a stark reminder of Trump's callous disregard for the health and welfare of women, for the health of all Americans and for our fundamental constitutional rights. Of course, it is immoral to deny basic health care coverage to women. Clearly, this campaign once again reveals Trump's allegiance and blind obeisance to the interests of our nation's most cynical corporations, and sanctimonious politicians, rather than to performing his duty to uphold the constitution and protect the health and safety of women and families."
The brief also discusses the impact of these rules on the delivery of health care in many cities and counties. Because some of them serve as the health care provider of last resort, people without contraceptive coverage will seek care from city- and county-run clinics. As a result, the municipalities will be forced to pay for care that would otherwise be covered by private insurance. In addition, as a result of the rules, some individuals will forego contraceptive care, while others will be forced to obtain less effective types of contraception. These impacts may result in other costs to these communities whether they relate to unplanned pregnancies or health needs of children.
The cities and counties point to a study of policy changes in Texas to demonstrate the potential impact. According to the study, after Texas excluded Planned Parenthood and other independent providers from its family planning program, the number of individuals receiving long-acting forms of contraception -- which are far more expensive and often more effective -- decreased by 35 percent, while Medicaid-paid births among the group increased by 27 percent.
As argued in the brief, the rules would impose unnecessary costs on the municipalities and use up precious resources, which is particularly concerning given the ongoing COVID-19 pandemic. For example, some municipal-run clinics are limiting the offering of intrauterine devices ("IUDs") because their insertion may require the use of personal protective equipment, which is being rationed for the treatment of COVID-19 patients.
Saint Paul City Attorney Lyndsey Olson stated: "The Trump administration's action represents a clear overreach that wrongfully and unlawfully interferes with employees' access to contraception. The City of Saint Paul will continue to advocate for the reproductive rights of its residents, and to protect the rule of law against infringement by the federal government."
The brief was filed in two consolidated cases before the U.S. Supreme Court: Little Sisters of the Poor v. Pennsylvania and Pennsylvania v. Trump. Both arise out of the same underlying litigation brought by the state attorneys general of Pennsylvania and New Jersey. In that lawsuit, the plaintiff states obtained a nationwide injunction.
The Supreme Court has twice heard cases on related issues in prior terms. In 2014, the Court decided Burwell v. Hobby Lobby Stores, Inc., in which it concluded that closely-held for-profit businesses were entitled to protections under the Religious Freedom Restoration Act and must be offered an accommodation to the contraceptive mandate.
Two years later, in 2016, an equally divided court remanded without deciding whether the accommodation process burden the religious exercise of religiously affiliated organizations such as Little Sisters of the Poor. The rules litigated in these cases were implemented in 2017 following the remand in Zubik v. Burwell.
Public Rights Project served as counsel of record for the brief, which was co-written by attorneys in the Oakland City Attorney's Office, with assistance from the San Francisco Affirmative Litigation Project at Yale Law School.
In addition to the lead cities of Oakland and St. Paul, the following cities and counties signed the brief:
● City of Alameda, California
● Alameda County, California
● City of Albuquerque, New Mexico
● City of Austin, Texas
● City of Baltimore, Maryland
● City of Boulder, Colorado
● City of Chicago, Illinois
● City of Cincinnati, Ohio
● City of Columbus, Ohio
● Cook County, Illinois
● City of Dayton, Ohio
● City of Holyoke, Massachusetts
● City of Houston, Texas
● King County, Washington
● City of Madison, Wisconsin
● Marin County, California
● Milwaukee County, Wisconsin
● Monterey County, California
● City of New York, New York
● City of Philadelphia, Pennsylvania
● City of Pittsburgh, Pennsylvania
● City of Providence, Rhode Island
● City & County of San Francisco, California
● Santa Clara County, California
● City of Seattle, Washington
● Shelby County, Tennessee
● City of Somerville, Massachusetts
● City of Stockton, California
● Travis County, Texas
● City of West Hollywood, California
About Public Rights
Public Rights Project is a national organization that bridges the gap between the laws on the books, what's happening on the ground and the lack of investment and commitment by the current Federal administration to protect civil rights, economic rights, and the environment. PRP leverages untapped opportunities in state and local law offices, including City Attorneys, District Attorneys, and Attorneys General, and provides critical start up capital to help these offices increase capacity and enforcement. Public Rights Project is a project of the Tides Center, a 501(c)(3) nonpartisan nonprofit organization.
For more information:
Web: https://www.publicrightsproject.org/
Facebook: https://www.facebook.com/PublicRightsProject/
Instagram: #publicrightsproject
Twitter: @public_rights