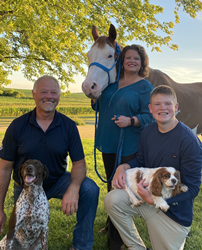 As we made our own healthier choices, we started thinking about what we were feeding our pets. When we tried Pet Wants and saw great improvement in the coats, energy levels and quality of life in our own animals, we were inspired to open Pet Wants Sioux Falls. - Melissa Brandner-Otten
SIOUX FALLS, Iowa (PRWEB) September 09, 2020
Husband and wife team Herman Otten and Melissa Brandner-Otten are pleased to announce the launch of their new business – Pet Wants Sioux Falls. Pet Wants Sioux Falls is a mobile pet food and supplies business that offers free, personal delivery throughout the Sioux Falls region, including Tea, Harrisburg, Brandon, Lennox and Worthing.
Pet Wants' specially-crafted, private-label pet food formulas are made in small batches with fresh, natural ingredients enhanced with vitamins and minerals for a complete and balanced diet in every bowl, all made in the USA. Pet Wants Sioux Falls has multiple blends of dog and cat food formulas as well as healing salve, calming balm, anti-itch spray, paw wax and more.
Herman is currently serving his fourth term in the South Dakota House of Representatives and has a long history of public service, including 30 years as a volunteer firefighter, nine years on the Tea City Council and four years as the mayor of Tea. He grew up in Tea, graduated from Lennox High School in 1985 and owns Herman Otten Construction, Inc. Melissa has been a dentist in Southeast South Dakota for more than 20 years and she owns and operates Parkside Dental in Tea. Melissa has served as a delegate for the South Dakota Dental Association for three terms and is an active participant in the SD Donated Dental Program, which helps to provide free dental services to needy patients in the area.
"Our journey to Pet Wants started with our own health," Melissa said. "We have a large garden for canning and produce, we enjoy the eggs from our chickens and ducks and raise our own beef. As we made our own healthier choices, we started thinking about what we were feeding our pets. When we tried Pet Wants and saw great improvement in the coats, energy levels and quality of life in our own animals, we were inspired to open Pet Wants Sioux Falls and to help other pet families give their pets longer, healthier lives."
Pet Wants has a money-back guarantee on the freshness and quality of the food, and the company only sources the best salmon, chicken, lamb, brown rice and other ingredients available. There's no sugar added, no fillers, no animal by-products and Pet Wants never uses corn, wheat, soy or dyes, which makes the food great for animals with allergies.
"Pet Wants is also not just pet food," Melissa said. "We have all-natural chews, supplements and toys. Our dogs especially love the elk antlers and Himalayan cheese chews. They are entertained for hours and getting nutrients that will improve their health and do not lead to bloating or other unpleasant conditions. Our older chocolate lab has seen improvement in mobility and hip discomfort since using the Pet ReLeaf Supplements. We wish we would have tried them years ago."
Herman and Melissa have three children – Ally Brandner, Andrea Brandner and Hayden Otten. They also have two dogs – a German Shorthaired Pointer named Scarlet and a King Charles Cavalier named Scout – as well as two cats, Maxwell and Felix. Additionally, they have six horses, eight ducks and 20 chickens.
"All of our pets are members of our family and we enjoy spending time with them," Melissa said. They are always there for us when we have bad days and they bless us with their grace and humility when we need it most. Our animals keep us busy – and crazy – but we wouldn't have it any other way."
To learn more about Pet Wants Sioux Falls, call 605-212-8214, email MBrandner@PetWants.com or visit https://www.petwants.com/siouxfalls/.