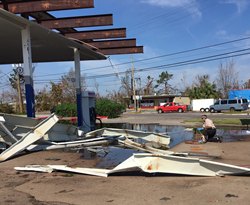 ...these teams gave tirelessly of themselves, working extremely long days and sleeping on cots with no power.
LINCOLN, Neb. (PRWEB) November 06, 2018
Weights and measures officials provide essential service to their communities every day, but when a hurricane hits it's a game-changer. It is no longer a matter of providing equity in the marketplace. It becomes an all-on effort for public safety. Those officials up and down the Atlantic coast have put their training and expertise to work this year in support disaster relief teams.
Even as Hurricane Michael was setting its sights on the Florida panhandle last month, the state was forming support teams to accompany weights and measures inspectors into the disaster areas where their specialized training would play a vital role in survival and clean-up efforts. According to the Florida Department of Agriculture and Consumer Services, these teams gave tirelessly of themselves, working extremely long days and sleeping on cots with no power.
As part of their everyday duties, weights and measures inspectors sample and test the quality of motor fuel at retail stations. When flooding occurs, underground storage tanks often become contaminated with water. This fuel is vital for emergency vehicles, utility workers and disaster relief crews. The inspection teams have been working through the rubble to test every fuel tank for the presence of water. They also delivered clean fuel to areas of need.
Another duty of the weights and measures inspectors is to inspect for credit card skimmers that may have been placed in the fuel dispensers. In 2017, Florida inspectors identified 654 credit card skimmers across the state; a 300% increase over the previous year. There is concern that this criminal element might rush in unseen after a storm to install skimmers before the population returns.
Brett Gurney, Chairman of the National Conference on Weights and Measures (NCWM) pointed out that this type of emergency response occurs throughout the country as public officials take on homeland security roles in emergency situations. Gurney said, "We at NCWM are especially proud of our members who develop standards, implement them, and position themselves to provide this type of elevated public protection." He praised the dedication of officials in Florida, Georgia, the Carolinas and others who have responded tremendously to tragic situations this year.
The National Conference on Weights and Measures is a professional nonprofit association of state and local weights and measures officials, federal agencies, manufacturers, retailers and consumers. NCWM has developed national weights and measures standards since 1905. The organization brings the right interests together to keep pace with innovative advancements in the marketplace.