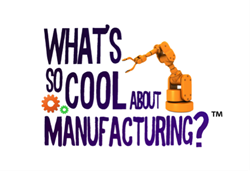 "This contest is a hands-on way for students to learn about the different career opportunities in the manufacturing field," said Barry W. Miller, President & CEO of Delaware Valley Industrial Resource Center
PHILADELPHIA (PRWEB) March 19, 2019
Public voting for the Philadelphia Region's "What's So Cool About Manufacturing?" (WSCM) Student Video Contest will open on Wednesday, March 20, 12:01am and run until Friday, March 22, 11:59 pm at the http://www.whatssocool.org website.
The video with the most online votes will receive the "Viewers Choice Award." A panel of judges will also review the students' videos for nine other awards, including the coveted "Overall Outstanding Program" and "Outstanding Educational Value."
"We're excited for the students to see their work recognized," says Barry W. Miller, President & CEO of Delaware Valley Industrial Resource Center (DVIRC). "This contest is a hands-on way for students to learn about the different career opportunities in the manufacturing field, and at the same time, work to create something they are proud to share with their peers, parents, and community. By watching the videos and casting your vote, you support their efforts."
Presented by DVIRC, the Greater Philadelphia area's third annual "What's So Cool About Manufacturing?" Student Video Contest focuses on matching Greater Philadelphia-area middle schools with major Philadelphia manufacturing companies, while continuing to expand the program in neighboring Bucks and Montgomery counties. Continued support from local sponsors and manufacturers makes this regional contest possible for the students, offering them valuable experience. This is one of 15 regional contests scheduled in Pennsylvania for the 2018-2019 school year.
Partnering with DVIRC for the project are Manufacturers Resource Center (MRC), who developed the WSCM program in the Lehigh Valley, eMediaWorks, Sahl Communications, Inc., Manufacturing Alliance of Bucks and Montgomery Counties, Manufacturing Alliance of the Philadelphia Region, Bucks County Workforce Development Board, Montgomery County Workforce Development Board, Bucks County Workforce Development Board, and the Pennsylvania Department of Community and Economic Development.
Educational media resources, GoPro Camera kits, professional media training from eMediaWorks, materials, and project costs were funded and made possible by the following: Sponsors; Gold Sponsor: M&S Centerless Grinding, Inc. Silver Sponsors: Ball Metalpack, Blommer Chocolate Company, Fredericks Company, Harold Beck and Sons, Inc., and Packaging Progressions, Inc.
The DVIRC-led Philadelphia Region "What's So Cool About Manufacturing?" program is funded in part by a grant from the Pennsylvania Department of Community and Economic Development's Manufacturing PA Training-to-Career program.
For more information regarding the "What's So Cool About Manufacturing?" Video Contest, please visit whatssocool.org, facebook.com/WSCMPhilly and Twitter @WSCMPhilly
About "What's So Cool About Manufacturing?"™:
Developed by Manufacturers Resource Center (MRC), the WSCM program is a video based educational tool that increases awareness of career paths in manufacturing. MRC developed this innovative career awareness program which at its core is "peer marketing" (kids telling kids what's so cool about manufacturing jobs). The contest is showcased on the What's So Cool Website, https://www.whatssocool.org and shared nationally through the Manufacturing Institute and the Manufacturing Extension Partnership platforms. The contest is expanding across the Commonwealth and the country. Inside Pennsylvania there will be 15 regions conducting contests this year. This contest gives students the opportunity to connect with local manufacturers, document their experiences and present them in an educational and "cool" way. The contest was created to generate excitement that draws students towards manufacturing career paths and STEM education.
About Delaware Valley Industrial Resource Center:
DVIRC is a regional economic development organization with a public purpose—to support the profitable growth of small and mid-sized U.S. manufacturers. Our vision is to have the region's manufacturing companies recognized as among the most advanced and innovative manufacturing companies in the world. Our mission is to strengthen regional manufacturing companies by helping them continuously improve their competitiveness and profitable growth. We support manufacturers through three practice areas: customized consulting, training and education, and executive network groups. Since 1988 we have served more than 2,000 manufacturers and generated over $2 Billion in client impact. For more information visit http://www.dvirc.org.