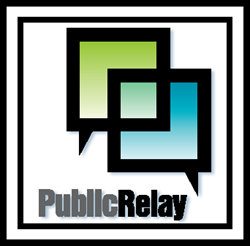 PublicRelay continues to set the industry standard for measuring the complex issues that companies face
RESTON, VA (PRWEB) August 30, 2013
PublicRelay, the transformative PR software solution for communications and marketing professionals in Fortune 500 companies, the Federal government, and trade associations, today announced the launch of new multidimensional topical analysis capabilities to its best-in-class software suite.
The new features provide in-depth tracking and analysis of complex topics affecting an organization in the marketplace. From company reputational drivers, to products, to company spokespersons, these new tools work in conjunction with PublicRelay's industry-expert analysts to provide a comprehensive view of the issues that matter most to communications professionals.
These views capture complex concepts and not just simple keywords. The analysis of topics also includes scoring the level of significance to the organization as well as identifying the positive or negative positions taken by key influencers.
PublicRelay's advanced topical analysis tools provide true multidimensional analysis capabilities, delivering unmatched insight into complex topics that simply cannot be achieved with the "surface tagging" commonly used in other solutions.
For example, when analyzing coverage discussing a company's reputation, the solution can then break out and score each reputational sub-category such as management, product quality, and company ethics – but only when that coverage is related to reputation.
Other enhancements provided by the advanced capabilities include:
1. Easy break-out of analysis for online, traditional, broadcast, and social media by key topics or concepts.
2. Reliable influencer identification and segmentation by key product and reputational drivers.
3. Near-real-time charting and graphing that can be customized by the issues that matter to an organization.
"With the release of our new multidimensional topical analysis upgrades, PublicRelay continues to set the industry standard for measuring the complex issues that companies face now," said PublicRelay Managing Partner, Eric Koefoot. "These new enhancements tie communications actions directly to their impact on reputational drivers that drive sales, stock price, and brand value."
The multidimensional topical capabilities are a central component of PublicRelay's suite of monitoring and analytics services that together deliver the most insightful and easiest to use media intelligence for PR and corporate communications professionals.
About PublicRelay
PublicRelay is the premier PR media monitoring and analytics solution for communications and marketing professionals. Known for its ease of use, superior data quality, and actionable information, PublicRelay delivers accurate business intelligence, drives proactive influencer engagement, and proves PR impact for the world's most prominent corporations, associations, and government agencies. For more information, visit http://www.publicrelay.com.