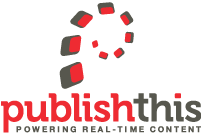 "PublishThis has the right combination of content monitoring, collaboration, and easy, pop-up publishing tools to help businesses of all sizes grow their revenue by leveraging content." - Robert Rose
Los Angeles, CA (PRWEB) November 17, 2014
PublishThis, the industry's most advanced content monitoring, discovery, and publishing platform for business professionals, announced today that it added Content Marketing and Strategy Expert Robert Rose to its Advisory Board. Rose brings a wealth of experience helping brands and enterprise publishers such as Oracle, AT&T, and LinkedIn meet the challenges of modern, multichannel content production. Rose is also Chief Strategy Officer for the Content Marketing Institute.
"I wanted to get involved because PublishThis is on a short list of influential companies in the content marketing space that has the right vision, technology and leadership to enhance brand storytelling at scale. The combination of their content monitoring, collaboration, and easy, pop-up publishing tools can help businesses of all sizes grow their revenue by leveraging content," said Rose.
PublishThis CEO Matt Kumin says combining Rose's deep knowledge of content strategy with the industry's most advanced content platform is a huge win for its customers. "Smart content creation requires context, data, and exceptional storytelling. PublishThis enables marketers and editors to connect these elements and deliver the right content to the right customers at the right time. That idea has fueled our growth, including clients like SAP, Nutrisystem, Cox Media, VML, MultiView, SheKnows.com, and the Custom Content Council. We're thrilled to have Robert help guide our continued innovation."
Rose joins Kumin on a December 3rd webinar called "Content 2015 – Content Innovation for Your Business Now" that introduces a unique blend of strategies and data-driven technology for practical use. Sign up here: http://www.contentmixology.com.
About PublishThis®
PublishThis is the industry's most advanced content monitoring and discovery platform for businesses. PublishThis was named to the 2014 EContent 100: The Most Important Companies in Digital Media and was designated a "2013 Cool Vendor in Digital Marketing" by Gartner, Inc. For more information, please visit: http://www.publishthis.com.