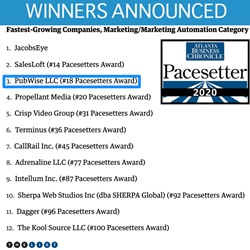 "Our team is committed to our client's success with superior customer service, technical support and a user-friendly platform. As a result, our clients have shown their appreciation of our partnership which has translated into growth and a strong client referral base."
ATLANTA (PRWEB) August 07, 2020
Each year, Atlanta Business Chronicle publishes their Pacesetter Award Winners which is a list of the top 100 fastest-growing private companies in the metro Atlanta area. Companies span across several categories: health care; marketing/marketing automation; manufacturing/supply and distribution; technology; staffing/hiring; commercial real estate; transportation/logistics; and restaurants/retail/hospitality. To qualify, a business must be based in the 20-county metro area. It also must have been established in the first quarter of 2017 or earlier, experienced a two-year growth in sales of more than 50%, and garnered revenue between $1 million and $300 million in 2019.
PubWise ranked 18th due in part to its 4,166% increase in revenue for the past 3 years. Companies are ranked by a growth index formula to level the playing field among businesses of various sizes. The revenue and employee growth indexes are the percentage change from 2017 to 2019, multiplied by the absolute change for the same years.
PubWise has seen great success in leveraging their original position as a publisher to build products that genuinely help other publishers. According to Chairman/CEO Stephen Johnston Sr, "Our team is committed to our client's success with superior customer service, technical support and a user-friendly platform. As a result, our clients have shown their appreciation of our partnership which has translated into growth and a strong client referral base." Technology Association Group (TAG) gave PubWise a similar recognition as Georgia Top 40 Innovative Companies of 2020.
ABOUT PUBWISE
Established in 2016 in the "Silicon Valley of the South", PubWise is a revolutionary, SaaS-based Prebid.js management service for web publishers that is virtually guaranteed to increase advertising revenue.
PubWise is the only Prebid.js management service offering Smart Path Optimization Technology (SPOT™) which uses AI to deliver an optimized ad configuration matched to user segments, with tailored demand inclusion that improves net revenue while improving latency. PubWise provides a turnkey platform to deploy, manage, monitor and optimize Prebid.js. PubWise is committed to protecting publisher value and data with clear auction dynamics, no arbitrage and transparent fees. Contact us for a live demonstration or try PubWise Analytics at no cost.
MEDIA CONTACT
Nikki Porter, Head of Marketing
PubWise
nikki@pubwise.io