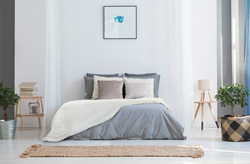 We are proud to see our customers engaging with our wider product range to prioritize better sleep and create healthy habits for rest and relaxation. Ultimately that's our goal - we want as many people as possible to start feeling the life-changing benefits of a great sleep cycle
NORTH HOLLYWOOD, Calif. (PRWEB) September 25, 2020
America's most comfortable mattress company, Puffy, has announced the launch of the highly anticipated Puffy Blanket, a dual-feel blanket with an ultra-soft faux-fur finish.
The all-new Puffy Blanket is the latest accessory to join a growing list of luxurious memory foam mattresses, cloud cooling bedding, and bedroom furniture designed to create an optimal sleep experience.
Famous for designing a mattress that feels like sleeping on a cloud, Puffy's strong customer base has welcomed the extension of the brand's product range.
"Giving our customers what they want is the center of our decision making, and proving a total bedroom solution is a key part of our strategy. We all want convenience. Becoming a one-stop bedroom solution for comfortable luxury is our greater vision so we are always excited when we have a new product to offer our customers," said Puffy CEO, Arthur Andreasyan.
All Puffy products feature a unique harmony of luxurious comfort, efficiency, and modern contemporary design. The Puffy Faux Fur Blanket is no exception. With irresistibly soft premium faux fur on one side, and plush micro mink on the other, the blanket makes for the perfect addition to any bedding collection.
"We know the Puffy Blanket is going to become a favorite amongst our growing bedding range. The product development and design teams did an excellent job by combining our signature contemporary colors with versatile fabrics. The dual-feel fabric works incredibly well to create comfort, while still being cool enough for every season," said Puffy CEO, Arthur Andreasyan.
The faux fur doesn't trap heat as the team at Puffy have managed to incorporate cooling properties into the design. The cooling blanket is a great option for sleepers who want to regulate temperature and relax while being wrapped in soft comfort.
With overheating becoming such a prominent pain point for sleepers, Puffy is committed to harmonizing luxury with purpose.
"Most people overlook the benefits of using a cooling blanket. The fact is that regulating body temperature is one of the most effective ways to achieve more rejuvenating sleep. Too many people are sleeping on mattresses and bedding that are trapping heat in the bed. We always suggest that all beds and bedding have temperature control capabilities, to circulate air and create a cool and calm environment for the perfect sleep," said Puffy CEO, Arthur Andreasyan.
Puffy's bedroom range is as extensive as it is impressive. Like many Puffy accessories, the blanket is hypoallergenic, reducing the likelihood of dust and allergy build-up, which can lead to irritation. Every single thread is also Oeko-Tex Standard 100 Certified, a world-class independent test for quality and safety.
Available in 3 versatile sizes (small 65" x 50", medium 92" x 85", and large 108" x 90"), Puffy's blanket can also double as a throw blanket for the living room. Puffy's two-tone white and gray design has the ability to match any bedroom or living room aesthetic, whether used as a bedroom blanket or throw blanket for living room decoration.
The Puffy Blanket has debuted following a whirlwind of subsequent product releases including the Puffy Body Pillow, Puffy Bed Sheet Set, and the Puffy Dog Bed.
"It has been a big year for our global teams and we are proud to see our customers engaging with our wider product range to prioritize better sleep and create healthy habits for rest and relaxation. Ultimately that's our goal - we want as many people as possible to start feeling the life-changing benefits of a great sleep cycle," said Puffy CEO, Arthur Andreasyan.
Like all Puffy products, the Puffy Blanket can be trialed for 101-Nights, comes with a Lifetime Warranty, and can be purchased with free shipping.
For more information about Puffy Blanket, visit https://puffy.com/products/puffy-blanket.
About Puffy
Puffy is a mattress company currently operating in the United States and Canada. The Puffy team is committed to developing the most luxurious mattresses, bedding, and bedroom furniture that you can buy online. The company was founded on the idea of creating mattresses and bedroom products that feel like sleeping on a cloud.
Puffy has been featured on The Talk, and was recently awarded Best Mattress of 2020. Puffy sells all products direct-to-consumers online. For more information visit https://puffy.com.