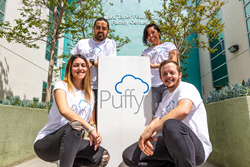 Millions of children in America face homelessness, and our donation partners do incredible work to support the most vulnerable kids in our communities. With our Puffy Mattress Donation Program, we can do our bit to ensure children have a safe place to sleep
NORTH HOLLYWOOD, Calif. (PRWEB) February 28, 2020
Puffy - makers of America's Most Comfortable Mattress, is donating mattresses to charities via a customer-driven social sharing campaign.
From the very first Puffy Mattress ever sold, the California-based mattress and bedroom company has proudly promoted their flagship donation campaign, which allows customers to make an impact with every mattress purchase.
Participation in the Puffy Donation Program is easy. Customers simply take a photo with their Puffy Mattress and post it on Instagram, Facebook, or Twitter with the hashtag #puffydonation.
For every 10 shares of the hashtag #puffydonation, Puffy donate a brand new mattress to a children's shelter. The process of sharing images via social media also allows the brand to connect with customers post-purchase.
The Puffy Donation Program has connected with a number of children's shelters and charities to supply mattresses for children in need.
Puffy's key donations partners include Penny Lane Centers, Mid-Maine Homeless Shelter, St. Vincents de Paul, The Mission of Hope, Nashville Rescue Mission, and Teen Challenge.
"Millions of children in America face homelessness, and our donation partners do incredible work to support the most vulnerable kids in our communities. With our Puffy Mattress Donation Program, we can do our bit to ensure children have a safe place to sleep," said Arthur Andreasyan, CEO at Puffy.
Without the support of donations, many housing charities in America have an inadequate supply of beds to help those seeking residential assistance.
"Puffy is always so generous. They have donated mattresses for our residential youth and families. We're so fortunate to have received the donation of mattresses from Puffy. Our youth love the comfort and also the fact that it comes from an organization that cares," said a spokesperson from Penny Lane Center.
"Engaging with our communities with the Puffy Donation Program is an essential part of our company values. What's better is that we are able to involve our customers too. Social media platforms like Instagram, Facebook, and Twitter can be used very positively to build community and connection. We are grateful to our customers who see the value in supporting our mission, too," said Andreasyan.
Expansion of the Puffy Donation Program
Puffy's commitment to providing comfort goes as far as offering customers a full 101-Nights to trial all products. Should a customer not fall in love with the luxurious cloud comfort of Puffy's memory foam mattress after 14 nights, Puffy offers a full refund (including free pick-up).
When it came to deciding what to do with brand new returned mattresses, it was natural for the team at Puffy to offer them as donations.
Once returned, Puffy inspects mattresses for quality and facilitates donations to local and national charities so people in need can sleep comfortably on a supportive bed each night.
Alarmingly, mattresses in landfills can take between 80-120 years to decompose due to the density and durability of most mattress materials. This is a growing concern for the team at Puffy.
The company endeavors to reduce wastage and encourage recycling and donations to ensure the industry leaves a positive footprint on the environment and the community at large.
"The environmental issues associated with mattress disposal are quite significant. For the handful of people who decide sleeping on a cloud isn't for them, we pass the comfort forward. This process aligns with the Puffy Donations Program and allows us to increase donations as well as reduce wastage," said Andreasyan.
Many mattresses have been donated, and the company plans on continuing the Program indefinitely.
To find out more about Puffy Donation, visit http://www.puffy.com.
###
About Puffy
Puffy is a California-based company committed to developing total bedroom solutions to help customers achieve optimal sleep health. The company was founded on the idea of creating mattresses and bedroom products that feel like sleeping on a cloud.
Puffy has been featured on The Talk, and was recently awarded Best Mattress of 2020. Puffy sells all products direct-to-consumers online. For more information visit https://puffy.com.