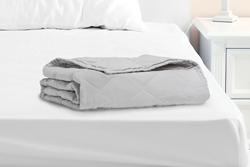 What sets our mattresses apart is how it feels. Sleeping on a Puffy feels like sleeping on a cloud. We had always envisioned creating this signature feeling; now, it's something that we are known for.
NORTH HOLLYWOOD, Calif. (PRWEB) March 30, 2020
Puffy, makers of comfortable mattresses and bedroom accessories, has today announced the debut of the Puffy Weighted Blanket, the latest inclusion to the company's fast-growing list of comfort products.
Known for creating one of the best-rated memory foam mattresses, Puffy is taking its signature comfort to all areas of the bedroom.
Those who want to sleep better have found weighted blanket benefits to be transformative in their sleep routine.
Puffy's Weighted Blanket is designed to evoke the sensation of a gentle hug, combined with the signature Cloud Comfort the company is known for.
Calming Comfort For The Entire Family
The Blanket comes in two weight options - 15 lbs and 20 lbs, and can be purchased in either twin size or queen size. The lighter 15 lbs Weighted Blanket is perfect for lighter bodies and children, while the 20 lbs suit heavier adults.
"Weighted Blankets are a popular sleep aid for both adults and children. Our weight options ensure that every member of the family can give the blanket a try," said Puffy CEO Arthur Andreasyan.
Gentle Pressure Stimulation
The best Weighted Blankets balance what is called gentle pressure stimulation with comfort. Puffy has done just that with this new release.
The reason why Weighted Blankets are suggested as a suitable sleep solution for people who find it difficult to fall asleep fast is that the weight pressure creates a calming effect on the mind and body.
The blanket assists people experience deep and restorative sleep by relaxing muscles and joints and making sleepers feel a gentle and caressing hug.
The hypoallergenic blanket is diamond stitched with evenly distributed ceramic beads. The beads give the blanket it's weight, and the premium stitching ensures the beads are tightly secured, use after use.
"The construction of this Weighted Blanket has a key focus on high usage. We opted for premium diamond stitching to ensure the ceramic beads stay perfectly in place no matter how many times the blanket is washed or carried around the house," said Puffy CEO Arthur Andreasyan.
Designed with a contemporary dual feel design, the Puffy Weighted Blanket can also be used in the bedroom as a nightly blanket or as a throw to add style in the living room.
Cooling Comfort
The Puffy Weighted Blanket has super-soft plush mink on one side, and a 100% twill cotton bottom. The mink top is cozy and comfortable, and the twill cotton creates exceptional airflow for temperature regulation in every season.
Sleeping cool is an essential element of deep and healthy sleep. Recognized for cooling mattresses, and other cooling products, cooling properties are a common feature in all Puffy made mattresses and bedding. The cool weighted blanket means sleepers won't sleep hot despite being covered up throughout the night.
For those who like a covered blanket, the Puffy Weighted Blanket also comes with a blanket cover. The cover can be neatly secured by small ties in each corner to ensure the blanket does not slip and slide.
"We added a few small yet helpful features to the design of the Puffy Weighted Blanket for efficient comfort. The hypoallergenic cover, ability to wash at home, and cooling benefits are a great value add for people who are looking for natural ways to sleep better," said Puffy CEO Arthur Andreasyan.
For sleepers who are not sure if the Weighted Blanket is the right sleep solution, Puffy offers a 101 Night Sleep Trial on all bedroom products, as well as free shipping, and a Lifetime Warranty.
The Puffy Weighted Blanket is available now in the United States and Canada.
About Puffy
Puffy is a global mattress company currently operating in the United States, Canada, and the United Kingdom. The Puffy team is committed to developing total bedroom solutions to help customers achieve optimal sleep health. The company was founded on the idea of creating mattresses and bedroom products that feel like sleeping on a cloud.
Puffy has been featured on The Talk, and was recently awarded Best Mattress of 2020. Puffy sells all products direct-to-consumers online. For more information visit https://puffy.com.