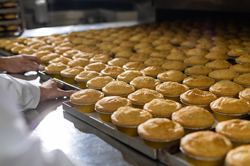 LOWESTOFT, United Kingdom (PRWEB) February 24, 2023
As part of Pukka's three-year growth plan, the family-run business introduced innovative technology to further advance its business and production capabilities, appointing Starfrost to design and install two Helix spiral freezers at its bakery in Syston, Leicestershire.
The new Starfrost spiral freezing system was designed to replace the previous equipment and provide a reliable freezing solution that enables an increase in manufacturing throughput, reduces downtime, and minimises water usage.
A state-of-the-art air defrost mechanism enables up to 12 hours of uninterrupted operation, while the automatic cleaning systems minimise downtime and reduces water usage. As a result, the spiral freezers future-proof Pukka's production capabilities to support any upcoming product development or expansion plans.
Commenting on the project, Peter Gull, Engineering & Projects Manager at Pukka said: "We are always looking for ways to revolutionise and improve our business and upgrading our freezing equipment is part of this strategy. Pukka have recently experienced significant growth and expansion following an increase in demand for our pie products and we wanted to ensure our processing equipment could match our progression and take us to the next level."
"Starfrost were an obvious choice for us, we were aware of the quality engineered equipment they produced and their position within the food processing industry. Central to the decision for selecting Starfrost was the company's ability to offer a bespoke solution that worked within our existing infrastructure and tailored to our products and production line as opposed to an 'off the shelf' standard design."
"The Starfrost spiral freezers work efficiently and as per specification. The new equipment has enabled us to future proof our production capabilities to support any upcoming product development or expansion plans. As a food manufacturer, I don't think you can ever underestimate the value of quality processing equipment that works exactly how it has been designed to and Starfrost has met our expectations."