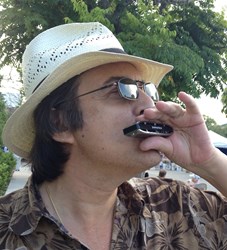 I had stopped doing a lot of the things I enjoyed, but since the Pulmonica,... I can walk, ride my bike, swim, and my medication has gone down. LM
Sarasota, Florida (PRWEB) December 03, 2013
After learning that a family member had emphysema, Dana Keller, PhD, blended his knowledge of musical instruments, physics, and anatomy, and with nudging from his nonmusician wife, created the Pulmonica® – a pulmonary harmonica for nonmusicians that exercises the diaphragm and chest muscles to improve breathing.
"No musical talent is required for this unusual harmonica," said Dr. Keller. "Just breathing deeply through three holes at a time is therapeutic and always sounds good. The low tuning is meditative and soothing, and provides a pulsing that help loosen lung and sinus congestion. After congestion is cleared, breathing is easier."
To assess the effectiveness of this new device, Dr. Keller approached the Sarasota Senior Friendship Center and met Dr. William Weiss, a volunteer physician who sees many of the pulmonary patients at the health clinic. Intrigued, Dr. Weiss agreed to oversee a modified pulmonary rehabilitation program that would include the Pulmonica.
From January to May 2013, nine volunteer COPD patients met for a rolling eight-week program that included education from Dr. Weiss about COPD, diaphragmatic breathing, mild exercise, diet, and medication. Volunteers led simple exercises with hand weights and chairs, and patients were encouraged to do exercises at home.
"All of the patients received a Pulmonica and instructions to inhale and exhale using long, slow, deep and complete belly breaths on the lowest holes manageable for at least five minutes every morning and evening," said Dr. Keller. "Some of the patients used the Pulmonica for several hours each day, and their energy increased while their use of medications significantly decreased."
Before and after lung function testing and quality of life assessments showed remarkably consistent results. All nine patients improved, and 91% of their pre-test post-test scores improved, which is a dramatic outcome. All of the patients credited at least some of their improvement to the Pulmonica. Dr. Weiss and Dr. Keller have written a paper and submitted it to a peer-reviewed medical journal, and future studies are planned.
"Adults often lose about 50% of their lung function by age 70, and smokers lose lung function even more quickly, so the Pulmonica can help almost everyone breathe better," said Dr. Keller. "Most people become shallow chest breathers and discount the benefits of deep breathing, unaware of what they are missing."
"Important for everyone, but essential for the millions of people with COPD, asthma, or other breathing problems, deep belly breathing delivers more life-sustaining oxygen to our cells," Mary Lou added. "The result is simultaneously relaxing and energizing. Practitioners of yoga and many athletes, singers, and wind musicians know this benefit well."
Sarasota area residents with breathing problems should circle December 12, 2013 on their calendar. The Kellers will host the first in a series of Breathe Better Now seminars at South Gate Community Center in Sarasota from noon to 1:30 PM. "We'll discuss The 12 Tips to Improve Your Breathing, and demonstrate the Pulmonica," said Mary Lou.
More information can be found at http://www.pulmonica.com and at the Pulmonica page on Amazon.com and on YouTube. Join Pulmonica on Facebook or LinkedIn. The Kellers are available to speak to groups and may be contacted through their website, http://www.Pulmonica.com, or by calling 888-382-9283.
The Kellers plan to donate Pulmonicas for future classes at the Senior Friendship Centers. Their relative with mild emphysema enjoys playing the harmonica and feels it has helped his breathing.
About the Kellers
Dr. Keller and his wife Mary Lou have formed a Florida corporation, Harmonica Techs, to sell their patent pending respiratory therapy device, which is now available for $99.95 on Amazon.com and comes with a 30 day money back guarantee.
They have attended national and regional harmonica and respiratory therapy conventions to promote the Pulmonica, which is hand-crafted in a small village in Germany by the world's oldest harmonica manufacturer, Seydel.
Dana Keller earned his PhD in measurement, statistics, and evaluation from the University of Delaware, and his bachelors from Tufts University. He is a nationally recognized healthcare researcher, and has served as the chief statistician for many quality improvement organizations and several national initiatives. He is the author of The Tao of Statistics, A Path to Understanding (with No Math), and The Tao of Research, The Path to Validity. As a musician, he plays the upright bass (with the local band Dr. Phil and Friends), harmonica, and the pedal steel guitar. He has been a professional machinist, and retains a curiosity about how things work. He and his wife have a long history of entrepreneurial adventures.
Mary Lou Casadevall Keller has a Master of Science degree in microbiology and a long career in marketing and education. Holder of a patent for a waterproof cast liner, and sharing her husband's curiosity, she is a full partner in Harmonica Techs. In the past six years, she has authored or co-authored seven books, including four historical novels under a pen name.
Contact:
Mary Lou C. Keller
VP Marketing
Harmonica Techs
Marylou(at)pulmonica(dot)com
941-228-5241
Dana Keller PhD
President
Harmonica Techs
Dana(at)pulmonica(dot)com
941-377-9815 (w)
941-228-5104 (c)
Harmonica Techs
PO Box 51613
Sarasota, FL 34232