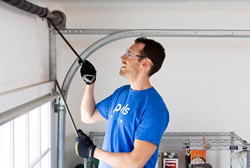 SAN FRANCISCO (PRWEB) September 20, 2018
Puls Technologies, Inc., the nationwide company delivering intelligent end-to-end support for the devices at the heart of everyday life, today announces an expansion of its same-day services to include garage door repairs. Puls technicians can help homeowners repair a section-roll up or tilt-up garage door when it will not open or close, becomes noisy or stuck, or has panel damage.
As the gateway to the home, garage doors can often be the easiest point of entry for house burglars. Home garages can be treasure troves, storing expensive cars, bikes and other valuables inside it, so it's imperative to make your garage secure. When something goes wrong with your garage door, speed is essential. With online, same-day scheduling for emergency garage repairs, Puls aims to bring technology and seamless booking to an industry that has not changed for decades
Founded in 2015, Puls quickly found a customer base in families and individuals frustrated by the time and effort involved in identifying a trusted technician and arranging a mutually convenient appointment window. Today, Puls has over 2,500 vetted professionals in 50 US metro areas, providing same-day installation and repair for more than 200 high-growth products, including smartphones, big screen TVs, HD antennas, garage door openers, and smart home devices such as voice-activated speakers, video doorbells, keyless locks, AI cameras, smart thermostats and security systems.
"Today, we're delighted to expand our portfolio of in-home technical support to include garage doors, furthering our vision of servicing anything with an 'on' switch," said Puls CEO and co-founder, Eyal Ronen. "Using Puls' proprietary technology that matches the right technician with the right tools for your repair, we aim to get to 85% of same-day appointment repairs for customers' garage doors."
This announcement builds on recent momentum for Puls, including the company's $50M Series C from Temasek and Sequoia Capital, as well as being named #11 on LinkedIn Top Startups list. Customers can book appointments for the same-day or for a future date, from 8am-9pm, 7 days a week, including holidays, at Puls.com/garage-doors.
About Puls
Founded in 2015 by Itai Hirsch and Eyal Ronen, Puls Technologies, Inc. connects consumers with highly skilled technicians to service smart technology devices anytime, anywhere. Providing services in more than 50 local markets, Puls leverages a proprietary technology platform to match customers with the right technician with the right skills at the right time, addressing most service requests within 60 minutes. With thousands of 5-star reviews on Facebook and Yelp, Puls goes the extra mile for each customer and corporate partner to ensure exceptional service and guaranteed results. Puls is headquartered in San Francisco with offices in San Diego and Tel Aviv and has raised more than $90 million in financing to date with backing from Temasek, Sequoia Capital, Red Dot Capital Partners, Samsung NEXT, Maverick Ventures, Kreos Capital, Hanaco Ventures, Hamilton Lane, and Viola Ventures. Learn more at http://www.Puls.com.
Media Contact
Kirstin Hallett for Puls
Puls(at)sourcecodecomms.com