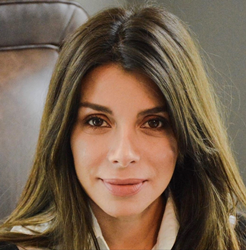 Pulsafeeder's technology is best suited to address chemical metering and water treatment needs in the industrial and oil & gas markets.
HOUSTON (PRWEB) September 06, 2019
Pulsafeeder, a global leader in fluid handling technology since 1942, today announced that Alexandra Gonzalez has joined the company as Regional Sales Manager. In this new Houston-based role, Alexandra will work with distribution partners and customers to help grow Pulsafeeder's chemical metering and water treatment businesses across industrial markets.
Alexandra comes to Pulsafeeder from Houston-based Allagash International, which is one of North America's and Latin America's leading valve and control manufacturing companies. While at Allagash, she managed dozens of domestic and international distributors and maintained close working relationships with end-user customers such as Veolia, Shell, Marathon Oil, BP, Energy Transfer Partners, Citgo, Total and many others.
Prior to Allagash, Alexandra served as Director of Business Development for GND Supply - a Katy, Texas-based equipment manufacturer and parts supplier to industrial, construction and oil & gas customers. Prior to GND Supply, Alexandra worked at Clover International, a Houston-based project management and logistics provider to oil & gas companies, where her responsibilities spanned a wide range from preparing forecasts, to providing quotes, to managing post sale logistics and support. Alexandra earned her degree in Computer System Engineering from Universidad Bicentenaria de Aragua in San Antonio, Venezuela and Computer Graphics Design from Colegio Universitario Monsenor de Talavera, in Caracas, Venezuela.
"Alexandra Gonzalez brings a wealth of sales, distributor and customer management experience to Pulsafeeder," said Vice President of Product Management & Business Line Director Axel Bokiba. "She understands the goals, strategies and requirements of our customers and channel partners, and we're looking forward to working with her to grow our business across multiple market sectors."
"Of all the metering pump companies, I believe that Pulsafeeder's technology is best suited to address the chemical metering and water treatment needs we're seeing in the industrial and oil & gas markets," said Alexandra Gonzalez. "My entire career has been spent working with product manufacturers and sales distributors in markets where Pulsafeeder's technology plays an important role, and I'm excited to bring this experience to Pulsafeeder and to the company's channel partners."
Alexandra will be based in the Houston area. To arrange a meeting with her, contact her at: agonzalez@idexcorp.com, or stop by Pulsafeeder's Booth (#2022) at WEFTEC in Chicago on September 23-25.
About Pulsafeeder:
In the early 1940's Pulsafeeder pioneered the hydraulically actuated diaphragm metering pump principle, and the company has been a global leader in fluid handling technology ever since. With experience in multiple industries, including: water & wastewater treatment; chemical & petrochemical processing; oil and gas; refineries, power generation as well as upstream applications, Pulsafeeder's reciprocating and rotary gear pumping technologies meet and exceed the industry requirements for safety, reliability, and precise control. For more information, visit: http://www.pulsa.com.