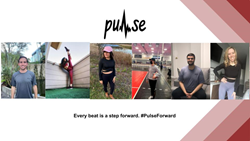 "Backing Pulse is backing a brand that drives inclusivity and emphasizes affordability without compromising quality"
CHICAGO (PRWEB) April 29, 2021
Pulse Athletic Apparel recently launched a fundraising campaign on the popular crowdfund website Indiegogo. The startup's first campaign seeks to raise $10,000 in the next month.
As a female, South Asian-owned brand, Pulse Athletic Apparel's goal is to push for greater representation within the health and fitness industry.
"Backing Pulse is backing a brand that drives inclusivity and emphasizes affordability without compromising quality," Pulse Athletic Apparel founder and CEO Karishma Bali said.
This round of funding will be used to expand the brand's reach and ensure Pulse Athletic Apparel's line remains affordable. Specifically, the areas the company will focus on are:
-Creating innovative products and styles
-Offering more inclusive sizing options
-Developing community resources for fitness, mindfulness, and overall health & wellness
-Continuing non-profit partnerships
"Pulse's mission has always been to build a community of empowered individuals, but we also want to give back to the communities that have empowered us," Bali said. "We hope increased funding pushes us in that direction."
Bali has bootstrapped the venture since its founding in July of 2020. Pulse Athletic Apparel has seen steady organic growth in the last year, with two members on its executive board and 10 brand ambassadors on its team.
Indiegogo campaign: https://www.indiegogo.com/projects/pulse-athletic-apparel--2#/
About Pulse Athletic Apparel: Pulse Athletic Apparel is a Chicago-based high-quality and affordable activewear brand. Founded by Loyola University Chicago alumna Karishma Bali, Pulse Athletic Apparel's mission is to create an authentic community of empowered individuals. Its product line includes activewear for men and women, and has been worn by doctors, dancers, health coaches, fitness instructors, and more.