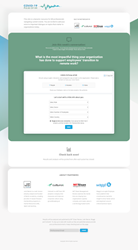 "Crowdsourcing responses from HR leaders around the world allowed us to surface best practices in responding to the COVID-19 crisis," said Donald Sull, Co-founder, CultureX and Senior Lecturer, MIT Sloan School of Management.
OAKLAND and SAUSALITO, Calif. and CAMBRIDGE, Mass. (PRWEB) July 08, 2020
Josh Bersin Academy, CultureX and Waggl today released the first set of results from the COVID-19 "Pulse of HR," a collaborative offering that enables HR leaders to share real-time insights with their peers about their organizational responses to the COVID-19 crisis.
Josh Bersin Academy, which addresses the business and talent issues organizations face today, joined forces with CultureX and Waggl to create the "Pulse of HR" as a dynamic resource, inviting HR professionals to add their voices to the important dialogue about topics that matter most to organizations right now. In a series of three pulses in May 2020, thousands of HR professionals from organizations of all sizes were asked about their organizations' responses to the COVID-19 crisis. The pulses were built on Waggl's transparent engagement platform in partnership with CultureX, which incorporates the latest technology from MIT to provide AI tailor-made for understanding employees' language and feedback. "Pulse of HR" was featured on MIT Sloan Management Review.
"Crowdsourcing responses from HR leaders around the world allowed us to surface best practices in responding to the COVID-19 crisis," said Donald Sull, Co-founder, CultureX and Senior Lecturer, MIT Sloan School of Management. "Our AI platform identified critical themes across hundreds of responses in real time. Effective responses promoted work-life balance during lockdown, promoted productivity and engagement during a crisis, and protected employees' physical and emotional wellbeing."
The COVID-19 "Pulse of HR" consisted of three pulses on topics relating to the Novel Coronavirus Pandemic:
1. Remote Work. In the first pulse of the series, 93% of the participants reported that a large percentage of their organizations' employees had transitioned to remote work as a result of the COVID-19 outbreak. Of those participants, 69% believed that their organizations were able to maintain the same level of productivity after transitioning to remote work. Participants were asked, "What is the most impactful thing your organization has done to support employees' transition to remote work?" The most popular response was, "Maintained support and patience as employees try and balance remote work, young kids at home and the challenges of homeschooling all rolled into one."
2. Agile Engagement. In the second pulse, 61% of respondents said that they felt the transition to remote work had increased employee engagement in their organization. When asked, "What is the one thing your organization has done in response to COVID-19 that has positively impacted employee engagement?," the highest percentage of respondents agreed with the statement, "Communicate our care and concern for our employees and their families and our community as a whole. We created a new COVID-19 mantra: Healthy Enough to help."
3. Re-entry. In the third and final pulse of this series, 80% of participants reported that their organizations were still evaluating when and how to bring people back into the physical workplace, and only 28% said that their organizations planned to bring everyone back within the next 30-60 days. When asked, "What is the #1 thing you have done (or are planning to do) to make your physical workplace safe for returning employees?", the most popular response was "Return to Workplace Protocol in place detailing: Self-declaration, Training, Incident Response Teams and their role, Available PPE, Workplace Hygiene, Physical Distancing, Traffic Patterns, Common Areas, Seating Reconfiguration, and the option to continue to work from home until further notice."
"Our initial pulse showed a huge uptick in issues about remote work, including the desperate need for good technology, constant communications and listening, and requests for help with family issues, productivity, wellbeing and physical health," said Josh Bersin, global industry analyst and dean of the Josh Bersin Academy. "In our second pulse, the biggest issue was regular two-way communication between leaders and teams, with a focus on flexibility and empathy as employees continued to focus on work, home, family and safety. And in the third pulse, it became clear that employees are very concerned about specific safety protocols as they come back to work. Employers and HR teams have to work hard to identify new practices that assure infection-safe workplaces."
The most common themes that emerged in all three pulses in the series included:

Frequent, high quality communication
Promoting physical wellbeing
Checking in on employees
Enhancing work-life balance
Providing or subsidizing IT hardware and collaboration platforms
Having honest discussions
Offering virtual social activities.
"Remote work has already started to feel much more natural, thanks in part to technology tools and platforms that allow us to stay in touch with our co-workers better," said Michael Papay, Co-founder and CEO, Waggl. "But as we've seen from this series of pulses, establishing a continuous two-way dialogue with employees is critical to maintaining engagement while working remotely. In a business context, respect has to happen both ways – with the organization respecting the needs of its people, and the people respecting the needs of the organization. As we move into the recovery phase, we need to hear from everyone, not just the voices of the people in the Boardroom and the Executive Suite. Let's invite all employees to share their ideas about how to make this next phase successful, and make sure that we continue being more inclusive and committed going forward, building upon Employee Voice."
The current "Pulse of HR" focuses on Racial Justice within the workplace. To participate in the Pulse of HR, please visit https://www.waggl.com/covid19-pulse-hr/.
About Josh Bersin Academy
The Josh Bersin Academy is the world's first global development academy for HR and talent professionals and a transformation agent for HR organizations. The Academy, which currently has approximately 10,000 members, offers content-rich online programs, a carefully curated library of tools and resources, and a global community that helps HR and talent professionals address today's unprecedented challenges. Memberships are available to individuals, HR teams, and entire HR organizations. For more details, visit http://www.bersinacademy.com.
About CultureX
Founded in 2019 and based in Cambridge, Massachusetts, CultureX delivers actionable insights organizations need to measurably improve their cultures. Harnessing cutting-edge artificial intelligence developed at MIT, CultureX measures culture with high accuracy and pinpoints concrete ways to improve. Based on decades of research and work with dozens of Fortune 500 companies, CultureX provides evidence-based interventions tailored to the client's unique needs. For more information, please visit https://www.culturex.com/.
About Waggl
For HR leaders who need to measure, and truly improve engagement, Waggl is an Employee Voice platform that crowdsources real-time insight to drive faster action and alignment around critical business topics. Inspired by the waggle dance honey bees do to communicate vital information, Waggl believes every voice matters. Unlike heavy surveys or basic pulse tools, Waggl is a dialogue-first approach to engagement that creates shared ownership through inclusive team-based action planning.
With a seasoned Executive Team and premiere customers including Freddie Mac, Paychex, Heineken, 3M, Mastercard, UCSF Medical Center, McGraw Hill, Taylor Morrison and Parsons, Waggl partners with leading enterprises to harness the collective intelligence of their people. For more information and an expanded customer list, please visit https://www.waggl.com.