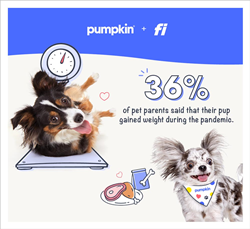 NEW YORK (PRWEB) May 24, 2021
Pumpkin®, a pet insurance and wellness care provider, and Fi, the smart dog technology company, announced today the results of a new joint survey examining the effect of the pandemic on dogs' health. Based on responses from nearly a thousand dog owners nationwide, the not-so-surprising results include significant weight gain, in spite of an overall increase in canine exercise.
Just as with humans, work from home has meant "eat more at home". In fact, the responses reveal multiple correlations between dogs and their parents' lifestyles and expose the main culprits for pets packing on the pandemic pounds: table scraps and treats. Some of the barking bites from the survey include:

36% reported their adult dogs gained weight since March 2020.
52% admit to feeding Fido extra treats while they've been home.
Specifically, of pets who gained weight and whose owners claimed their dog's food intake hadn't increased since the start of the pandemic,
- 44% admit to giving their pup extra treats and
- 42% confess to sharing table food, even though they know they shouldn't.
A whopping 56% say their dog's weight gain correlates with their own.
For owners who upped their exercise, 66% reported an increase in their pup's activity, and likewise, less human activity led to a 33% decrease in their pup's exercise.
In positive news, 36% of pet parents who spent more time at home reported an increase in their pooch's daily step count. Fi's database of hundreds of thousands of dogs showed a consistent average increase of ~1,300 more steps per day starting in March 2020 and holding steady since then.
Still the improvement in exercise doesn't outweigh the hard truth: dogs have gotten pudgy and this can mean a host of serious health problems.
"I can't emphasize enough the importance of keeping table scraps away from the dog," says Dr. Ryan Gates, Veterinarian at Cuyahoga Falls Veterinary Hospital. "We think we're showing pups the extra love they deserve, but in the long run, spoiling them with more treats or letting them finish our meals can actually harm our beloved dogs. The effects of significant weight gain can lead to numerous health problems, like arthritis, high blood pressure, and heart disease, ultimately shortening their life expectancy."
So what can dog owners do to keep their pups healthy?
For pet parents whose dogs have gained weight during the pandemic, Dr. Gates recommends owners visit their veterinarian to discuss improving their diet or reducing their food intake. Exercise, while not the primary factor for weight loss, is also crucial to keeping dogs in peak health. For overweight canines, it's important to monitor a dog's exercise to ensure activity goals are met without overexerting animals new to regular walks.
Through the insights from this survey, both Pumpkin and Fi aim to help pet parents take the best care possible of their canines so that all dogs can live a safe, happy and healthy life. For more insight on the results of the survey, visit pumpkin.care/blog/pandemic-weight-gain.
About Pumpkin[1]
Pumpkin Insurance Services Inc. (Pumpkin) is a direct-to-consumer pet care company and insurance producer founded to help ensure pets live their longest and healthiest lives. Pumpkin insurance plans offer dog and cat owners advanced veterinary care coverage for accidents and illnesses, and their optional Preventive Essentials pack add-on offers life-threatening disease prevention through reimbursing for vaccines and the related annual wellness exam and lab tests, helping enable consumers to make data-informed care decisions based upon their individual pet's health needs. All Pumpkin Plans provide reimbursement for covered care administered by any licensed veterinary clinic in the U.S. and Canada. Pumpkin insurance policies do not cover pre-existing conditions. Pumpkin insurance does not cover routine dental cleanings. Waiting periods, annual deductibles, co-insurance, benefits limits and other exclusions may apply. For all limitations and for information about Pumpkin's Pet Insurance, and/or to learn more about Pumpkin's optional add-on Preventive Essentials benefits, visitors can review Terms and Conditions at pumpkin.care/insurance policy and at pumpkin.care/customer agreement, respectively. Additional information may be found by visiting http://www.pumpkin.care.
[1] Pumpkin Insurance Services Inc. (NPN#19084749) (Pumpkin) is a licensed insurance agency, not an insurer. Insurance is underwritten by United States Fire Insurance Company (NAIC #21113. Morristown, NJ), a Crum & Forster Company and produced by Pumpkin. Pumpkin receives compensation based on the premiums for the insurance policies it sells. Pumpkin Preventive Essentials is not an insurance policy. It is offered as an optional add-on non-insurance benefit. Pumpkin is responsible for the product and administration. Pumpkin Preventive Essentials is not available in all states.
About Fi
Founded by Jonathan Bensamoun (Square) and Loren Kirkby (Dropcam, Google/Nest) in 2017, Fi builds cutting-edge technology to elevate the relationship between dog parents and their dogs. Since launching the first LTE-M enabled GPS tracking collar in 2019, Fi has empowered millions of dog parents with insights about their dogs' whereabouts and behavior. Allowing dog owners to locate their dogs from anywhere in the world, Fi has saved thousands of dogs' lives by providing real-time escape notifications and accurate GPS tracking to dog parents. The Fi smart collar also enables parents to monitor the health of their dogs and compare their activity to other dogs on the Fi network. With Fi, dog parents make sure their best friends live their best lives.
Fi is headquartered in DUMBO, Brooklyn, and currently hiring (dogs welcome). For more information, see https://tryfi.com.
Methodology:
This survey was conducted by Pumpkin and Fi via SurveyMonkey with a sample of nearly 1,000 respondents who are dog owners in America from April 27, 2021-May 7, 2021.