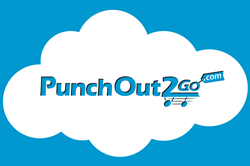 "We are thrilled that PunchOut2Go for OnPrintShop is now available, and that it empowers print service providers with OnPrintShop-based stores to offer in-demand procurement integration features to web-to-print buyers on any eProcurement platform."
CHARLOTTESVILLE, Va. (PRWEB) July 08, 2020
PunchOut2Go, a leading B2B eCommerce and eProcurement integration provider, today announced the release of PunchOut2Go for OnPrintShop. The new PunchOut2Go connector allows print service providers who use OnPrintShop to offer PunchOut catalogs and sales order automation to buyers using any eProcurement, spend management, or enterprise resource planning application.
PunchOut2Go for OnPrintShop was developed in partnership with Radixweb, a software development and IT outsourcing services provider and developer of OnPrintShop. PunchOut2Go for OnPrintShop integrates OnPrintShop with the PunchOut2Go Integration Platform as a Service (iPaaS), which handles data conversion between OnPrintShop and eProcurement platforms. Via PunchOut2Go, OnPrintShop now supports integration with hundreds of eProcurement platforms, including Coupa, Jaggaer, SAP Ariba, and Oracle PeopleSoft.
OnPrintShop Web2Print (SAAS & Custom License) recognized as modern and easy to use solution. Specially designed to help Commercial Printers offer highly intuitive and personalize experience offering rule based online storefronts for B2C, B2B and Resellers to estimate, personalize design, and order print. Mobile responsive back end to automate order-processing generating job tickets, shipping labels, reports and integrated with hundreds of third party tools. OnPrintShop offers multiple modules and designer studios for PSP's to as per needs easily add new print segments - Stationary products, Wide Format, Photobooks & products, Promotional, Mailing, Packaging, Labels, Books.
PunchOut2Go empowers OnPrintShop users to offer a range of web-to-print procurement enhancements to B2B print customers, including Level 2 PunchOut catalogs, sales order automation, and electronic invoicing. B2B web-to-print customers increasingly rely on eProcurement integration to streamline procurement workflows, particularly large organizations that depend on web-to-print to create high-quality branded marketing materials.
"EProcurement is the fastest growing B2B sales channel, and it's often a key differentiating factor for B2B buyers seeking new vendors. Buyers want to manage procurement in a cohesive and integrated eProcurement interface, and they expect vendors to provide easy integration for PunchOut catalogs and other procurement automation features," said Brady Behrman, CEO of PunchOut2Go. "We were excited to work with Radixweb on the new OnPrintShop connector. OnPrintShop offers an excellent range of web-to-print design and eCommerce features and can now offer even better integration with buyer platforms."
"OnPrintShop has been awarded three times in a row from 2016 as Must See'ems Product, for constantly innovations and helping PSP's easily offer multiple print segments and sales channels, along with flexibility to customize and integrate third party technologies, which has been highly successful for a lot of our clients. We are very happy to share that now we have integrated OnprintShop with Level 2 PunchOut catalogs. We've worked with PunchOut2Go before, and we know they're the best in the business for eCommerce and eProcurement integration," said Naresh Bordia, V.P. BD at OnPrintShop, Radix. "We are thrilled that PunchOut2Go for OnPrintShop is now available, and that it empowers print service providers with OnPrintShop-based stores to offer in-demand procurement integration features to web-to-print buyers on any eProcurement platform."
In addition to OnPrintShop, PunchOut2Go provides integration for all major eCommerce platforms, including Magento, SAP Commerce Cloud, BigCommerce, Shopify, SalesForce B2B Commerce Cloud, and hundreds more.
About PunchOut2Go:
PunchOut2Go is a global B2B integration company specializing in connecting commerce business platforms with eProcurement spend management and enterprise resource planning applications, allowing companies around the world to streamline purchasing processes and transact electronically. Harnessing the power of the cloud, PunchOut2Go's flexible iPaaS technology seamlessly links business applications to automate the flow of purchasing data and reduces integration complexities for PunchOut catalogs, electronic purchase orders, eInvoices and other B2B sales order automation documents in order to accelerate business results. Learn more at https://www.punchout2go.com.
About OnPrintShop & Radixweb:
OnPrintShop is a flagship product of Radixweb since 2008 with the extensive experience in delivering enterprise class solutions (SaaS & Custom License) for diverse industry verticals. We respect the customer's printing challenges and customers respect us for simplifying print operations with 24*5 personalized support. OnPrintShop has successfully developed a Web to Print solution for SME Printers, Trade Printers, In-plants & Print Brokers. We, also work as IT partners for PSPs, serving various products – Stationery & Marketing, Wide Format, Photo-books, Promotional, etc. Our Solution has been recognized consecutively for the last few years in prestigious print events like Drupa, Print '17, MUST SEE' EMS, Graph Expo.
Established in 2000, Radixweb is a leading software product development and IT Outsourcing services provider. The company delivers a complete range of IT services and enterprise-class solutions to clients from SMEs to fortune 500 companies across the globe. Radixweb key Service offerings include Bespoke Software Development, Embedded Software Development, Software Product Development, Web & Desktop Application Development, Application Performance Optimization and more.