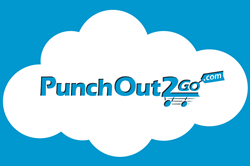 We are excited to now offer our PunchOut2Go for InsiteCommerce connector within the Episerver App Marketplace, with Insite having been acquired by Episerver.
CHARLOTTESVILLE, Va. (PRWEB) May 21, 2020
Eighty-five percent of online shoppers start their online purchase journeys at a marketplace whether they have a product in mind for purchase or not. Business buyers want the same level of ease and comparison and PunchOut2Go, a global eCommerce and eProcurement integration provider, and Episerver, the customer-centric digital experience company, have made it possible through PunchOut2Go for InsiteCommerce via the Episerver App Marketplace.
Episerver acquired Insite Software in December 2019 to bolster its B2B capabilities and PunchOut2Go for InsiteCommerce is one of the first applications for Insite to come to Episerver App Marketplace. The app empowers manufacturers, suppliers, and distributors who sell to B2B buyers via InsiteCommerce to enable buyers with PunchOut catalogs and purchase order automation. Integrating via PunchOut2Go avoids custom development work and offers a streamlined and user-friendly procurement experience that eliminates manual data entry and accelerates the procurement cycle.
"PunchOut2Go has partnered with Insite Software for many years to provide InsiteCommerce customers the ability to integrate with any eProcurement system via a pre-built connector. We are excited to now offer our PunchOut2Go for InsiteCommerce connector within the Episerver App Marketplace, with Insite having been acquired by Episerver. PunchOut2Go for InsiteCommerce is compatible with any eProcurement platform, including SAP Ariba, Oracle Netsuite, Jaggaer, Coupa, and many more," said Brady Behrman, CEO of PunchOut2Go. "Via the PunchOut2Go iPaaS gateway, InsiteCommerce stores seamlessly exchange data with buyer eProcurement platforms, enabling PunchOut catalog capabilities and automation of purchase orders to provide a complete B2B commerce integrated solution."
With PunchOut2Go for InsiteCommerce, buyers select a Supplier's store in their eProcurement platform and are automatically routed and authenticated into the correct InsiteCommerce storefront. Once the user is ready to checkout, PunchOut2Go automatically transfers the shopping cart data back to their eProcurement platform in order to create a purchase requisition. Once the requisition is approved, a purchase order is generated and the sales order data is returned to InsiteCommerce.
As eProcurement becomes a preferred procurement channel for B2B buyers, sellers who can offer fast, no-code integration have a substantial market advantage. Integrating via the PunchOut2Go iPaaS gateway helps InsiteCommerce sellers to win new sales opportunities, increase top-line sales revenue, and retain business with key customers.
To be able to participate in the Episerver App Marketplace, PunchOut2Go for InsiteCommerce had to pass strict design, quality, verification, compliance and support standards to ensure impeccable integrations for purchasers seeking quick extensibility in the form of B2C-like shopping.
"Episerver App Marketplace is mission-critical for companies looking to customize their technology stack without the hassle or headaches associated with customization," said Karen Chastain, senior director of global alliances at Episerver. "While Episerver is an end-to-end digital experience platform, our goal is to offer unparalleled accessibility to the best-of-breed software our customers want to use. To do this, Episerver App Marketplace offers a select-and-succeed model so back-end logic and integration helps engineer show-stopping front-end experiences."
As a pre-built connector for InsiteCommerce, PunchOut2Go for InsiteCommerce meets B2B buyer demand for zero-code eProcurement integration for PunchOut catalogs and purchase order automation while also providing real-time visibility into transactions, comprehensive reporting and analytics, and exhaustive troubleshooting and testing with the PunchOut2Go Portal.
"Adding PunchOut2Go within Episerver App Marketplace speaks to the need for business users to have complete autonomy over what their software platforms do for them as an organization with hyper-specific needs another company, even in their own industry, may not have," said Chastain. "PunchOut2Go for InsiteCommerce is a tremendous value add to the Episerver ecosystem and a powerful way to plug in PunchOut catalog and purchase order automation and use it to grow your business."
Episerver tests each new application or add-on for functionality, security and user-interface; ongoing support is held with PunchOut2Go. For more information about the app, visit https://marketplace.episerver.com/apps/punchout2go/punchout2go-for-insitecommerce/
About PunchOut2Go
PunchOut2Go is a global B2B integration company specializing in connecting commerce business platforms with eProcurement spend management and enterprise resource planning applications, allowing companies around the world to streamline purchasing processes and transact electronically. Harnessing the power of the cloud, PunchOut2Go's flexible iPaaS technology seamlessly links business applications to automate the flow of purchasing data and reduces integration complexities for PunchOut catalogs, electronic purchase orders, eInvoices and other B2B sales order automation documents in order to accelerate business results. Learn more at https://www.punchout2go.com
About Episerver
Episerver empowers businesses to scale through the most customer-centric approach to digital experiences. Its Customer-Centric Digital Experience Platform™ features best-in-class content management and robust commerce, both backed by AI-powered data and personalization solutions. The platform has consistently earned industry, analyst and media recognition for its vision, capabilities and customer commitment. Episerver's 900+ partners and 825+ employees in offices around the globe are proud to help more than 8,000 customers enrich their customer lifetime value, increase revenue and grow their brands. Learn more at http://www.episerver.com
Episerver PR Contact:
Amberly Dressler
Manager, Corporate Communications
+1 714 851 5794
amberly.dressler@episerver.com