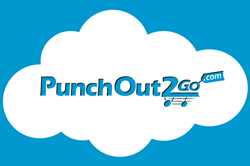 PunchOut2Go partners with Mirakl to help users of the Mirakl Marketplace Platform to integrate their eCommerce marketplaces with any buyer eProcurement and ERP platform.
CHARLOTTESVILLE, Va. (PRWEB) September 02, 2020
PunchOut2Go, a global leader in B2B eCommerce and eProcurement integration, announces its sponsorship of the Mirakl Platform Pioneer Summit 2020. The Summit is the can't-miss platform event of the year for business leaders who want to leverage platforms to scale and drive growth.
The free-to-attend Summit takes place on September 9. There are regional events for the Americas and for Europe, the Middle East, and Africa (EMEA). Register for the Platform Pioneer Summit Americas, which starts at 1 p.m Eastern Time, or the Platform Pioneer Summit EMEA, which starts at 10.00 a.m. Central European Time, using the promo code P2GO.
The Platform Pioneer Summit features keynotes from industry leaders at the forefront of the platform revolution across the globe, including ABB, Carrefour, Kroger, Premier, Toyota Material Handling, and Worten. ECommerce marketplace specialists from Mirakl will speak on topics from the power of the marketplace business model to building a business case for marketplace projects.
Exclusive peer-to-peer roundtable discussions follow the scheduled talks, and Brady Behrman, co-founder and CEO of event-sponsor PunchOut2Go, along with other members from the executive leadership team, will attend several round tables to discuss best practices and innovative solutions with other B2B industry leaders.
"ECommerce marketplaces and the Mirakl Marketplace Platform empower B2B sellers to enhance their sales platform with improved efficiency, increased sales, and new revenue streams," said Behrman. PunchOut2Go partners with Mirakl to help users of the Mirakl Marketplace Platform to integrate their eCommerce marketplaces with any buyer eProcurement and ERP platform.
"We're delighted PunchOut2Go is a Silver Sponsor of this year's Platform Pioneer Summit, " said Art Boyd, Mirakl Vice President, Worldwide Channels & Alliances. "B2B buyers increasingly expect marketplace operators to offer eProcurement integration. PunchOut2Go's Integration Platform as a Service (iPaaS) increases speed and agility while reducing the cost and complexity of connecting seller eCommerce marketplaces to buyer eProcurement platforms."
###
About PunchOut2Go
PunchOut2Go is a global B2B integration company specializing in connecting commerce business platforms with eProcurement spend management and enterprise resource planning applications, allowing companies around the world to streamline purchasing processes and transact electronically. Harnessing the power of the cloud, PunchOut2Go's flexible iPaaS technology seamlessly links business applications to automate the flow of purchasing data and reduces integration complexities for PunchOut catalogs, electronic purchase orders, eInvoices, and other B2B sales order automation documents in order to accelerate business results. Learn more at https://www.punchout2go.com
About Mirakl
Mirakl is the only marketplace SaaS platform that empowers both B2B and B2C organizations to launch and grow an enterprise marketplace at scale. With the Mirakl Marketplace Platform, both B2B and B2C businesses can offer more, learn more and sell more: increase the number of products available for buyers, grow the lifetime value of customers, and anticipate buyer needs and preferences. Committed to ease of use, The Mirakl Marketplace Platform is a turn-key solution that's easy to integrate into any eCommerce platform and Mirakl Catalog Manager makes managing product data quality simple at marketplace scale.
Mirakl's unmatched marketplace expertise is key to customers' success. Mirakl employs a team of 60+ marketplace operators who help clients adopt best practices and client success provides critical long-term strategic guidance. Over 250 customers in 40 countries trust Mirakl's proven technology and expertise including Urban Outfitters, Hewlett Packard Enterprise, Best Buy Canada, Carrefour, Siemens, and Toyota Material Handling USA, Inc. For more information: http://www.mirakl.com.