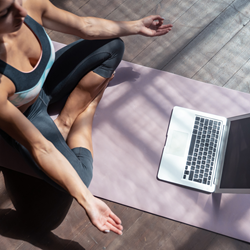 "The studios that embrace this are going to thrive." - Punchpass CEO Chris Patton.
BURLINGTON, Vt. (PRWEB) April 01, 2020
Punchpass, a global provider of fitness studio software, this month launched a new software integration that allows fitness businesses to instantly connect existing class schedules, class passes and memberships to live video, so that studios can monetize their online classes.
The platform automatically emails registered students before class with the link to the class broadcast, and allows studios to collect payments. The new technology is enabling thousands of small fitness business owners worldwide to stay financially viable despite mandatory closures, and the threat of lost class and membership-based revenue. And home-bound customers have a way to stay fit, healthy and connected to their community at a time when fear and isolation are at an all-time high.
"The studios that embrace this are going to thrive," said Punchpass CEO Chris Patton. "This has been a crazy time for most of us, and a scary one, as the floor supporting our businesses has disappeared. The Punchpass integration with Zoom has been a lifeline for these small fitness studios and their communities."
As the coronavirus pandemic threatens the global $94 billion fitness industry, businesses that rapidly deploy live, online classes could not only avoid permanent closure, but create a whole new digital market.
"My first thought was to stay in front of the customers, just to stay in people's minds," said Bill O'Connor, owner of Hot Yoga Burlington. 
Forced to close March 16, within hours, O'Connor was offering his first online classes through Punchpass. The classes quickly grew, outpacing the typical in-person attendance numbers, and drawing local and out-of-state participants. "After just the first class, there was this tremendous response. The feedback has been extremely positive. The emails and texts and social media that's been coming in has been so positive." 
Other Punchpass customers are also finding that the online class offerings have been a boom for business. Customers are enrolling at unexpectedly high rates, and are willing to pay for the live connection, despite the abundance of free, recorded classes online.
"People who value it don't seem to mind paying for it," said Dana Darr, owner of Asana Yoga Center in Valparaiso, IN.
Asana Yoga once hosted classes of thirty to forty students. But after six new yoga studios entered her market, her classes had dropped to six students, on average. Now, her online classes are drawing twenty or more.
"This place is picking up! Who knew creating a pandemic virtual yoga classroom would be so much fun and so widely attended," said Darr. "It's so unexpected which makes it fun and exciting in what otherwise would be just a really rough time."
As the COVID 19 outbreak continues to spread, an increasing number of fitness businesses and customers will likely turn to online classes. It's a trend that could reshape the entire club and studio industry long-term. For now, the technology is a light for the many small businesses – and their customers – who are struggling to survive.
"We are thrilled that so many of our clients have shown resilience and optimism by offering online classes as a way to keep their communities active and vibrant," said Patton.
In the words of Erin Henderson, owner of Hot26 School of Yoga, just outside Seattle, WA:
"This isn't about me. This is about my community and keeping them connected and realizing how important it is for these people."
About Punchpass
Punchpass was founded in 2013 by Chris Patton and provides simple software for fitness and yoga studio management. Currently, 1,100 small businesses around the world use Punchpass to run their group classes in person and online.
The small and mighty team at Punchpass delivers best-in-class service to the small, local businesses who use our software, as we cannot achieve success without theirs.
###
For more information, including additional fitness studio owners, quotes, photos and to schedule in-person interviews, please contact Marsha Austin at 303-475-2796, or marsha@marshaaustinmedia.com.