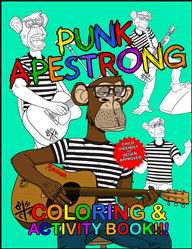 LOS ANGELES (PRWEB) November 29, 2022
Digital collectibles on the blockchain have seen explosive growth over the past year. Today, Draper Goren Holm official mascot, Punk Apestrong, a Bored Ape Yacht Club NFT that has been brought to life through the creative ideas of the Blockchain and Booze community, published his first ever book.
The fun family-friendly coloring and activity book is meant to showcase the opportunities and stoke the imagination of folks interested in learning about how NFTs, especially ones that include intellectual property rights, can be creatively utilized. All proceeds from the sales of these books will be donated to charities that support art and music programs focused on underserved communities.
Punk Apestrong, who regularly fills in as host for Blockchain and Booze when Alon Goren, Founding Partner of Draper Goren Holm is out, will be hosting episode number 140 this Wednesday night at 5pm PST to discuss how Web3 will revolutionize Intellectual Property Rights. Expert guests will include Amyli McDaniel from Mintangible, Sailor Gary from SpiritPunks and legendary Bored Ape Yacht Club derivative artist, Reaper_NFT.
"The annual character licensing market that web3 will transform is $280 Billion Dollars," said Punk Apestrong. "But for only $10 you can have a great time during the holidays with the younger half of your family coloring my friends and I in, while the older half of your family whispers condescendingly about your crypto portfolio."
The Punk Apestrong Coloring and Activity Book is available now on Amazon and at online retailers globally. Free sample pages are available on PunkApestrong.com.
Register free for Blockchain and Booze: https://dgh.events/event/blockchain-booze
Punk Apestrong's Coloring and Activity Book on Amazon: https://a.co/d/hAcYb9p
More about Punk Apestrong: https://punkapestrong.com