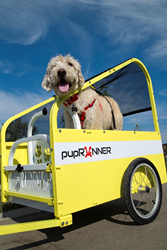 They have thought of everything!
BOISE, IDAHO (PRWEB) September 04, 2014
pupRUNNERS LLC, a manufacturer of high quality, innovative 'run and ride' bicycle trailers for dogs, today announced a Kickstarter campaign to raise funds to support the bike trailer's mass production.
The pupRUNNER is the first ever bicycle trailer that features a unique, patent-pending lift up floor design that allows dog owners to either run their dogs in an enclosed area or ride safely inside the bike trailer.
Desiring a safe and convenient way to take dogs along on bike rides, pupRUNNER co-owners Anna and Ben Carter have designed and manufactured over 100 bike trailers, testing and fine tuning the concept over the past three years to ensure safety and convenience for their more than 75 customers and dogs.
"Anna and I are proud of the pupRUNNER bike trailer," said Ben Carter, co-owner of pupRUNNER. "We believe that people want the 'run and ride' flexibility of our bike trailer and Kickstarter will help us bring pupRUNNER to the next level."
In a fraction of the time it normally takes to walk a dog, the pupRUNNER offers a quick exercise alternative. On long or short trails and paths, dogs can run or ride in the safety of the trailer. Due to the innovative floor design and the run or ride option, dog owners can also travel on longer rides and not worry about the distance being too great for the dog.
"They have thought of everything!," said Mark Strom, a pupRUNNER customer in Boise, Idaho. "This trailer folds flat for storage, fits on my bike rack, and lets me take my dog, Barley, everywhere with me!"
The company offers three sizes of bike trailers in a wide variety of colors and designs. Accessories are also offered for an upgrade.
The pupRUNNER Kickstarter campaign can be found at https://www.kickstarter.com/projects/anna-ben/the-puprunner-bike-trailer-for-dogs
About pupRUNNER
pupRUNNER, based in Boise, ID, is a start-up company founded on a mission – to offer a convenient, safe and innovative way to combine bicycling and walking a dog. Featuring patent pending lift up floor design, the pupRUNNER bike trailer allows a dog to run or ride behind a bike. For more information, please visit http://www.puprunners.com.