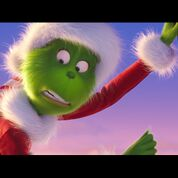 ATLANTA (PRWEB) November 09, 2018
The launch of PÜR's product in support of DR. SEUSS' THE GRINCH
PÜR has launched a limited-edition makeup collection, which includes a 5-piece Cruelty Free Brush Set, 12-Piece Collector's Face and Lip Balm Set, Color-Changing Skin-Perfecting Clay Mask, 4-piece Mask Sampler Gift Set and 4-Piece Eyeliner Set.
This collection is packed with makeup and skincare products that are uniquely intertwined with The Grinch™ theme. While each item has a fun and festive twist, they are formulated with PÜR's known standards of high-performance products, superior pigmentation and good-for-your-skin ingredients that make them the perfect addition to any makeup collection.
This limited-edition collection will be available now at http://www.purcosmetics.com.
The Collection Includes:
Illumination Presents Dr. Seuss' The Grinch™ He Hates It, You'll Love It
5-Piece Brush Set and Pouch | $38
In order to steal the show this holiday season, you'll need the right tools and this travel-friendly, 5-piece brush collection will help beauty lovers blend face and eye makeup to perfection and sculpt their best features. This compact collection covers the basics for easy application of powder, concealer, shadow and eyeliner. The best part? This set includes a festive zip pouch for quick touch-ups on the go.
Illumination Presents Dr. Seuss' The Grinch™ Good Enough to Steal
12-Piece Collector's Face Palette & Color-Changing Lip Balm Set | $42
This 12-piece face palette and lip balm set is the perfect way to spoil yourself—or your loved ones—this holiday season. The face palette includes a highlighter and blush to instantly add a pop of color and shimmer to the face to compliment any makeup look. The 10-piece eyeshadow palette includes an assortment of highly pigmented, festive matte and shimmer shades that can transition your look from everyday gorgeous to mischievous and smokey. Complete the look with the ultra-moisturizing lip balm that transforms from Grinch-green to the perfect shade of pink.
Illumination Presents Dr. Seuss' The Grinch™ Grinch Stole My Look
Color-Changing Skin-Perfecting Mask | $29
The first step to achieving a beautiful makeup look is a flawless canvas and this peppermint-scented mask is sure to improve your mood—and the appearance of your skin—for the better! This Color-Changing Skin-Perfecting Clay Mask helps purify, brighten and smooth the appearance of skin for a beautiful, holiday glow. Watch as the mask magically transforms from green to pink upon application as it works to purge skin of impurities.
Illumination Presents Dr. Seuss' The Grinch™ Beware of Perfection
4-Piece Sampler Mask Gift Set | $28
The only thing better than our best-sellers is a gift set including them! This 4-Piece Mask Sampler Gift Set is filled with our best-selling masks: Soak It Up, Glitterally Gold, Purple Pore Punisher and Dirty Girl to keep skin looking cleansed, purified and replenished throughout this holiday season. Whether you need to clarify, refresh, hydrate or firm the appearance of the skin, this sampler kit allows you to fully customize your skin care regimen with all over pampering or multi-masking.
Illumination Presents Dr. Seuss' The Grinch™ Heart Line
4-Piece Liquid Eyeliner Set | $34
We're letting you in on our secret to making eyes bold, beautiful and swoon-worthy this holiday season. This 4-Piece Eyeliner Set includes deeply pigmented eyeliners that amplify any makeup look with precise application.
WHO: Kristen D'Agostino
kdagostino@purcosmetics.com / (678) 303-3088
CONTACTS: Television Print Digital
DR. SEUSS' THE GRINCH arrives in theaters nationwide on today, November 9, 2018.
http://www.grinchmovie.com
About PÜR
Regarded as "The Complexion Authority™, PÜR™ offers women of all ages, races and skin types high-performance beauty solutions and skin-loving products. By focusing as much on the ingredients left out of formulas as included, PÜR sets the standard for a better kind of beauty. PÜR is proud to be cruelty free, paraben free, gluten free, talc free, petrolatum free, mineral oil free, and SLS free. Learn more at http://www.purcosmetics.com
About DR. SEUSS' THE GRINCH
For their eighth fully animated feature, Illumination and Universal Pictures present The Grinch, based on Dr. Seuss' beloved holiday classic. The Grinch tells the story of a cynical grump who goes on a mission to steal Christmas, only to have his heart changed by a young girl's generous holiday spirit. Funny, inspiring and visually stunning, The Grinch tells a universal story about the redemptive power of kindness and the true spirit of Christmas.
Academy Award® nominee Benedict Cumberbatch lends his voice to the infamous Grinch, who lives a solitary life inside a cave on Mt. Crumpet with only his loyal dog, Max, for company. With a cave rigged with inventions and contraptions for his day-to-day needs, the Grinch only sees his neighbors in Whoville when he runs out of food.
Each year at Christmas they disrupt his tranquil solitude with their increasingly bigger, brighter and louder celebrations. When the Whos declare they are going to make Christmas three times bigger this year, the Grinch realizes there is only one way for him to gain some peace and quiet: he must steal Christmas. To do so, he decides he will pose as Santa Claus on Christmas Eve, even going so far as to trap a lackadaisical reindeer to pull his sleigh.
Meanwhile, down in Whoville, Cindy-Lou Who—a young girl overflowing with holiday cheer—plots with her gang of friends to trap Santa Claus as he makes his Christmas Eve rounds so that she can ask him for help for her overworked single mother (Rashida Jones). As Christmas approaches, however, her altruistic plan threatens to collide with the Grinch's more nefarious one. Will joy and optimism win out over grumpiness and cynicism?
Find out, Christmas season 2018. http://www.grinchmovie.com
About Illumination
Illumination, founded by Academy Award® nominee Chris Meledandri in 2007, is one of the entertainment industry's leading producers of event-animated films. The company's franchises include three of the top-eight animated films of all time, and its iconic, beloved brands—infused with memorable and distinct characters, global appeal and cultural relevance—have grossed more than $5.8 billion worldwide.
Illumination was recently honored by Fast Company as one of the world's most innovative companies.
Illumination, which has an exclusive financing and distribution partnership with Universal Pictures, has garnered an extraordinary number of franchise successes for a studio just over a decade old. As the creator of the hugely successful world of Despicable Me, which was recently crowned the top-grossing box-office animated franchise globally, Illumination has evolved the Despicable Me series to include Minions, the third-highest-grossing animated film of all time and the most profitable film in Universal's history, as well as the Academy Award®- nominated Despicable Me 2 and summer 2017's Despicable Me 3, which made more than $1 billion at the global box office.
Illumination recently launched two original properties that captivated audiences worldwide: The Secret Life of Pets, which achieved the best opening for an original movie, animated or otherwise, in U.S. history, and the global smash, Sing.
Founded 11 years ago with the mission of putting a smile on the face of every member of the audience, no matter their age, Illumination continues to imagine both original stories, as well as unexpected adaptations of beloved pre-existing works.
Illumination's upcoming films include Dr. Seuss' The Grinch in November 2018, The Secret Life of Pets 2 in June 2019, Minions 2 in July 2020, and Sing 2 in December 2020.
About Universal Pictures
Universal Pictures is a division of Universal Studios (http://www.universalstudios.com). Universal Studios is part of NBCUniversal. NBCUniversal is one of the world's leading media and entertainment companies in the development, production and marketing of entertainment, news and information to a global audience. NBCUniversal owns and operates a valuable portfolio of news and entertainment networks, a premier motion picture company, significant television production operations, a leading television stations group and world-renowned theme parks. NBCUniversal is a subsidiary of Comcast Corporation.