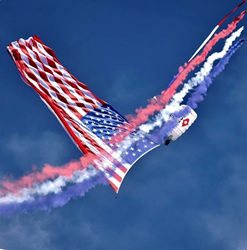 WEST LAFAYETTE, Ind. (PRWEB) November 06, 2021
Saturday, November 6th, 2021, the Purdue Boilermakers will host the Michigan State Spartans at Ross-Ade Stadium for their 9th game of the season. The Boilermakers are coming off a 28-23 win against Nebraska last week. The game starts at 3:30pm and as part of the opening ceremony, Team Fastrax™ will gracefully fly the American flag and Purdue flag over the stadium for the whole audience to behold. The performance will also feature their red, white and blue smoke, which will trail the skydivers as they glide into the stadium.
John Hart, owner of Start Skydiving, and Founder of Team Fastrax™ said, "We are honored to be performing our patriotic American Flag skydive for the Purdue football game. We hope they can keep up last week's momentum with another win against Michigan State."
According to the Boilermakers website, Purdue and Michigan State cross paths more seldom than most Big Ten Conference colleagues, with just five matchups against each other since 2010. Saturday's game will be the first Boilermaker-Spartan contest since 2018. Purdue trails in the all-time series, 28-36-3, but has the advantage in games played at home (16-14-3). Purdue's last contest against Michigan State (Oct. 27, 2018) came after the famous Boiler win over No. 2 Ohio State (Oct. 20, 2018), with Purdue yielding a 23-13 result to the Spartans in East Lansing. Then-freshman LB Jaylan Alexander recorded three tackles in that game, and redshirt sophomore WR Jackson Anthrop returned one kickoff for 14 yards.
For more information on the game or for tickets, visit the Purdue Boilermakers website.
Team Fastrax™ dedicates every performance to a fallen hero. They may be gone but are never forgotten. This performance by Team Fastrax™ is dedicated Army Spc. Christine M. Ndururi, who Died November 6th, 2007, serving during Operation Iraqi Freedom. For more information on Army Spc. Christine M. Ndururi visit the Military Times website.
ABOUT TEAM FASTRAX™
Team Fastrax™, sponsored by SELECTiON.COM®, is the most ambitious professional skydiving team in the world. The team has a roster of more than twenty-nine active members, with a collective of more than 300,000 skydives. Team Fastrax™ has performed exhibition skydives all over the world for audiences large and small as a patriotic display or as a product promotion.
ABOUT SELECTiON.COM®
SELECTiON.COM® is a nationwide provider of criminal and pre-employment background screenings, also referred to as a Consumer Reporting Agency. Headquartered in Cincinnati, OH, SELECTiON.COM® is a veteran-owned company that has been in business since 1991 and offers more than 35 background and data collection services.