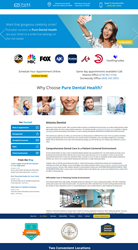 We are so honored to be selected as a 2020 Top Patient Rated Dunwoody Dentist. Our team of talented professionals truly value our patients and strive to continually provide everything they need and deserve when it comes to dental care, says Dr. Justin Scott of Pure Dental Health Dunwoody
DUNWOODY, Ga. (PRWEB) January 30, 2020
Pure Dental Health of Dunwoody is a modern, full-service practice and is located at 2390 Mount Vernon Road in Dunwoody, GA. The well-respected practice provides patients with high-quality dental care and amenities in a relaxing atmosphere. Pure Dental Health Dunwoody is among an exclusive group of dental practices with a large number of five-star ratings and superior online reviews. As a result, Find Local Doctors has once again chosen Pure Dental Health of Dunwoody as a 2020 Top Patient Rated Dunwoody Dentist. Find Local Doctors provides a trusted online directory, helping patients easily locate qualified and reputable physicians and dentists in their area. In multiple reviews of this practice, many satisfied patients have commented on Pure Dental Health Dunwoody's inviting, friendly staff and highly-skilled dentists, always providing personalized dentistry at its best.
"We are so honored to be selected as a 2020 Top Patient Rated Dunwoody Dentist. Our team of talented professionals truly value our patients and strive to continually provide everything they need and deserve when it comes to dental care," says Dr. Justin Scott of Pure Dental Health Dunwoody
At Pure Dental Health, they understand that your smile can have a wide variety of requirements at each stage of life. Pure Dental Health Dunwoody's highly skilled dentists specialize in all facets of dentistry, including general dentistry, advanced cosmetic procedures, dental implants, emergency dentistry and orthodontics. The location delivers a range of dental services, using state-of-the-art technology and techniques. In one place, patients can receive a routine cleaning, smile makeover, oral surgery or a full set of implant-supported dentures. Pure Dental Health Dunwoody also staffs IV sedation dentists for patients who have special needs or want a painless dental experience. To add to patient comfort, the office also offers a number of spa-like amenities such as hot scented towels, flat-screen TV's and so much more. The dental practice offers flexible scheduling, which includes early morning and late evening appointments, as well as same-day dentistry to accommodate your last-minute dental care needs. Pure Dental Health Dunwoody provides multiple opportunities to help you finance your smile treatments, including insurance acceptance and monthly payment plans.
For more information about the Dunwoody office location of Pure Dental Health, visit the practice website at http://www.puredentalhealth.com or call (404) 343-2855.