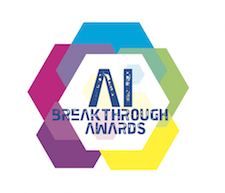 "AIRI from Pure Storage offers new, modern 'breakthrough' technologies that help enterprises tap the power of AI for faster innovation and a competitive edge"
LOS ANGELES (PRWEB) June 23, 2021
AI Breakthrough, a leading market intelligence organization that recognizes the top companies, technologies and products in the global Artificial Intelligence (AI) market, today announced that Pure Storage® (NYSE: PSTG), the IT pioneer that delivers storage as-a-service in a multi-cloud world, has been selected as winner of the "Best AI Solution for Big Data" award in the fourth annual AI Breakthrough Awards program for its AIRI® infrastructure solution.
Architected by Pure Storage and NVIDIA, AIRI is the industry's first complete AI-ready infrastructure. Powered by Pure's unified fast file and object (UFFO) storage platform FlashBlade®, AIRI offers organizations a simple and flexible infrastructure to meet AI demands for any AI initiative, at any scale. AIRI flexibly adapts to business demand as AI models move from prototyping to deployment, with one universal AI system that offers right-sized resources for every workload, and consolidates silos into a single elastic AI infrastructure.
The NVIDIA® DGX A100™ systems and FlashBlade platform within AIRI replace the performance of racks of legacy technology, offering data scientists the power of a large supercomputer for any AI initiative. AIRI offers graphics processing units (GPUs), scale-out flash and remote direct memory access (RDMA) fabric that move large data loads.
"Traditional approaches to AI infrastructure often result in silos of servers and storage that are either over-spent on capacity or starve AI workloads. The complexities of legacy solutions are holding enterprises back from moving into the new era of AI," said Amy Fowler, VP of Strategy and Solutions for FlashBlade at Pure Storage. "AIRI offers a modern platform suited to the unique demands of analytics, training and inference. We are incredibly proud to receive this 2021 AI Breakthrough Award in recognition of our innovative approach as we drive to make AI-first infrastructure a reality."
The mission of the AI Breakthrough Awards is to honor excellence and recognize the innovation, hard work and success in a range of AI and machine learning related categories, including AI platforms, Deep Learning, Smart Robotics, Business Intelligence, Natural Language Processing, industry specific AI applications and many more. This year's program attracted more than 2,850 nominations from over 17 different countries throughout the world.
"The unfortunate reality of too many of today's AI initiatives is that they are stalled by the complexity and rigidity of legacy technology, as well as the intricacies of a 'do-it-yourself' approach. AI requires a completely new infrastructure to truly facilitate faster innovation and obtain actionable, modern analytics," said James Johnson, managing director, AI Breakthrough. "AIRI from Pure Storage offers new, modern 'breakthrough' technologies that help enterprises tap the power of AI for faster innovation and a competitive edge. Congratulations to Pure Storage and the AIRI team being our clear choice for 'Best AI Solution for Big Data' in this new era of data intelligence."
AIRI is built with a complete software stack enabling data scientists to get up and running in a few hours, not weeks or months and keep their focus on algorithms, not infrastructure.
To learn more about AIRI, visit https://www.purestorage.com/products/ai-infrastructure/airi.html
About AI Breakthrough
Part of Tech Breakthrough, a leading market intelligence and recognition platform for global technology innovation and leadership, the AI Breakthrough Awards program is devoted to honoring excellence in Artificial Intelligence technologies, services, companies and products. The AI Breakthrough Awards provide public recognition for the achievements of AI companies and products in categories including AI Platforms, Robotics, Business Intelligence, AI Hardware, NLP, Vision, Biometrics and more. For more information visit AIBreakthroughAwards.com.
About Pure Storage
Pure Storage (NYSE: PSTG) gives technologists their time back. Pure delivers a modern data experience that empowers organizations to run their operations as a true, automated, storage as-a-service model seamlessly across multiple clouds. One of the fastest-growing enterprise IT companies in history, Pure helps customers put data to use while reducing the complexity and expense of managing the infrastructure behind it. And with a certified customer satisfaction score in the top one percent of B2B companies, Pure's ever-expanding list of customers are among the happiest in the world.