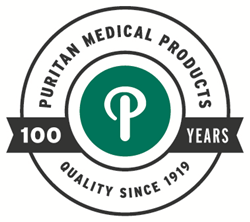 "The community has also been tremendously supportive of us through the years and has been instrumental in our ability to achieve the 100-year milestone."
GUILFORD, Maine (PRWEB) April 08, 2019
Puritan Medical Products, LLC, along with its sister company, Hardwood Products Co, LLC, recently received the Spirit of America Foundation Tribute Award from the town of Guilford, ME.
Tom Goulette, Guilford town manager, presented the award in recognition of the companies diverse and extensive contributions to the community, particularly in its role as an employer. Collectively, Puritan and Hardwood employ more than 500 people and provide "millions of local payroll dollars" to the greater Piscataquis County area. In addition to being a vital contributor the local economic engine, Puritan also fosters higher education through the provision of scholarships to the children and grandchildren of employees and provides both financial and other types of support to the town's infrastructure.
The award also acknowledged Hardwood and Puritan's long track record of community stewardship on the "commendable occasion of its 100th anniversary in business."
"We are thrilled to be recognized by the town with this award," states Timothy Templet, Puritan's executive vice president of sales. "The community has also been tremendously supportive of us through the years and has been instrumental in our ability to achieve the 100-year milestone."
Hardwood and Puritan are planning a series of employee and community events throughout the year as well as customer appreciation and other outreach efforts to celebrate the people who have been the foundation of the companies ability to achieve the 100-year milestone.