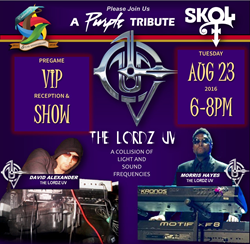 We are honored to have the opportunity to lend our talent to such an important cause for Mixed Roots Foundation and We hope our show will motivate and inspire the audience to have fun and move people in a way the they never have before
Minneapolis, MN (PRWEB) August 09, 2016
Mixed Roots Foundation has teamed up with The Lordz Uv, a unique brand of Humantronic Live AudioVisual Performance company that presents a collision of light and sound frequencies, created by David Alexander, Co-Founder of Icon Collective Production School and Morris Hayes, Former Keyboardist and Musical Director for Prince and the New Power Generation and will help the foundation celebrate its 5 Year Anniversary as well as help kick off their festivities of the foundation's 4th Annual Adoptee Night with the MN Twins that will take place the following day at Target Field.
"We are honored to have the opportunity to lend our talent to such an important cause for Mixed Roots Foundation," said Morris Hayes, Co-Creator, The Lordz Uv. "We hope our show will motivate and inspire the audience to have fun and move people in a way they never have before."
"At Seven, We have a passion for service, a commitment to quality and an authentic excitement about our vision that also includes giving back and supporting organizations in the community like Mixed Roots Foundation," said David Koch, Co-Owner, Seven Steakhouse Sushi Ultralounge Skybar. "And We are especially excited to host The Lordz Uv at our venue…We are always looking for new opportunities to bring exposure to new talent mixed with expanding our reach into the community. We look forward to seeing all of you at Seven soon!"
The pregame VIP Purple Tribute Show will include special invited VIP guests such as members of the MN Vikings staff, team and their families as well as donors, sponsors and community partners that helped make this special event possible. Doors open with a No host bar/food cocktail reception at 6:00 p.m., a live performance by The Lordz Uv at 6:30 p.m. and an opportunity to mingle and network following the show. There will also be raffle prizes and other opportunities to help raise awareness and fundraise for the greater cause and Mixed Roots Foundation.
Tickets cost $40. For more info, please contact 213.725.8054 or email events(at)mixedrootsfoundation(dot)org. To register / attend the event at Eventbrite: http://mixedrootsfoundationpurpletributevipreception.eventbrite.com. To volunteer, email volunteer(at)mixedrootsfoundation(dot)org or please visit http://www.mixedrootsfoundation.org. 100% of ticket sales will benefit Mixed Roots Foundation that supports important post-adoption resources for the adoption and foster care community.
About Morris Hayes
With his role in the music business as a professional player and producer for more than 25 years, Morris Hayes currently is the Founder and CEO of Ill Street Productions, a music production company that has written for various film & television shows including, Flava Flav - "Under One Roof", Martin Lawrence - "You So Crazy" & HBO - "Laurel Avenue". Morris has also appeared on albums and worked very closely with Prince, Maceo Parker, The Time, Martika, George Clinton, Mazarati, Bria Valente & many others. Morris operates a recording studio, The Underground Lab, in L.A.. Morris is now producing various new artist projects and is currently involved with the film & television industries writing original scores, source material & trailer music. Morris specializes in Keyboard playing/drum programming, song writing, arranging, music production & music director of bands. To keep up with what Morris is working on, please visit: http://www.facebook.com/morrishayesmusic.
About David Alexander
David Alexander is a multi-talented recording artist/producer, composer, and educator. David's music career includes touring, producing, remixing, and scoring. His credits include touring with the Gap Band, performances with Chaka Khan and George Clinton as well as scoring music for top movies and video games such as "Quake II", "Quake 3 Arena", "Tomorrow Never Dies 007" and "Rush Hour". David has also remixed tracks for Prince, U2, Nirvana and Annie Lennox to name a few. David is currently working with Morris Hayes, under the Moniker "The Lordz Uv". The project serves to raise consciousness on issues of importance to humanity as well as fund scholarships in arts and science for nderprivileged students. In 2005 David turned down opportunities to work for both Prince and tour with Nine Inch Nails to launch Icon Collective, an artist based music production school that he co-owns and co-founded in Burbank California. David continues to work with non-profit arts programs for troubled teens. To learn more about David and Lordz Uv, please visit: http://www.lordzuv.com/
About Seven Steakhouse Sushi Ultralounge Skybar
Seven Steakhouse Sushi Ultralounge Skybar is the ultimate event destination located in the heart of downtown Minneapolis featuring award winning steak and sushi menus. Located next to Pantages Theatre, this dramatic, three-level destination lights up the corner of 7th and Hennepin with two very distinct dining and entertainment experiences. Every level is meticulously designed to provide areas perfect for larger social events or intimate rendezvous. Award winning producers David and Alexus Koch created the ultimate mix of fine dining and entertainment to bring the glamour and hospitality of the past back to Hennepin Avenue. Seven isn't so much a restaurant as it is an experience. To book reservations at Seven or learn more, please visit, http://www.7mpls.net/.
About Mixed Roots Foundation
Mixed Roots Foundation is a 501(c)(3) nonprofit organization based in Los Angeles, CA with presence also in San Francisco and Minneapolis. Mixed Roots Foundation serves as the first and only national / global multicultural foundation for adoptees and their families representative of the international, domestic, and foster care adoption experience that leverages philanthropy and grassroots fundraising to support important post-adoption resources for adoptees and their families including mentoring, DNA testing and unique scholarships/grants for the adoption and foster care community. For more info, visit http://www.mixedrootsfoundation.org, LIKE Mixed Roots Foundation on Facebook or Follow on Twitter and Instagram @mixedroots.