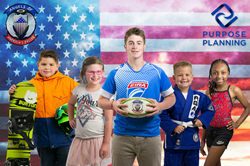 "Children of our fallen military and first responders deserve the support of our nation. Purpose Planning is stepping up to stand by them. They focus on long term commitment to their clients, and they are helping us honor our long term commitment to children we support" says Joe lewis Angels CEO
COLORADO SPRINGS, Colo. (PRWEB) January 31, 2020
Angels of America's Fallen (Angels) is honored to announce that Purpose Planning, the Colorado Springs-based wealth management firm, has made an unprecedented commitment to be the Presenting Sponsor for the next three Angel Galas—including this year's much anticipated event on February 15, 2020 at the Broadmoor.
Hailed as one of the most magical evenings of the year, Angel Gala is the flagship benefit for the Colorado Springs headquartered not-for-profit, Angels of America's Fallen. This distinctive organization funds healthy developmental activities for the children of fallen military, law enforcement, EMS, and firefighting professionals.
"We were deeply humbled and excited when Purpose Planning approached us with a three-year commitment to this event and the children that we support," said Joe Lewis, Founder and CEO of Angels. "Community partners like Purpose Planning don't come around very often—but when they do, they become game changers."
"It was an easy decision to stand with this remarkable organization by doing what they do for these remarkable children: Make a long-term commitment," said Jennifer K. Hicks, the owner of Purpose Planning. "It's a great honor for Purpose Planning to remember our nations heroes and invest in the lives of their children."
The Angel Gala is celebrating its fifth consecutive year and gala goers will enjoy a five-star dinner, live child performances, music & dancing, live & silent auctions and more.
Tickets are now on sale at https://www.aoafallen.org.
About Angels of America's Fallen
Founded in 2013, Angels of America's Fallen (Angels) is a 501(c)(3) not-for-profit organization whose mission is to help the children of America's fallen military, law enforcement, EMS, and firefighting professionals develop into strong and successful adults. Angels does this by granting funds and/or supplies for positive developmental activities such as sports, art, or music during their most crucial developmental years (from the time of loss through age 18). Rather than applying a blanket program, and regardless of the cause of the parent's death, Angels is organized around providing opportunities and support that is based on the unique needs and interests of each child. Although Angels covers the costs of the children's activities, their support is much more than just writing checks; they follow up with and encourage the children, and share in celebrating their successes throughout each year. This long term engagement is crucial for creating true lasting positive impact. For more information please visit http://www.aoafallen.org or call (719) 377-7352.
About Purpose Planning
Purpose Planning is an independently managed, full service, financial planning firm that provides quality planning and creative solutions for individuals and business owners. With over two decades of experience in over 20 states, Purpose Planning provides comprehensive wealth management services for every stage of the journey. For more information, please visit https://www.purposeplanning.com or call 719-590-4110.
Mailing Address: P.O. Box 62937, Colorado Springs, CO 80962
1980 Dominon Way, Ste 200, Colorado Springs, CO 80918
Securities and advisory services offered through Registered Representatives of Cetera Advisors LLC, member FINRA, SIPC, a broker/ dealer and a registered investment adviser. Cetera is under separate ownership from any other named entity.