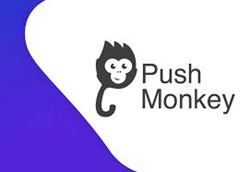 Integrate Email Capture With Push Notifications
DALLAS (PRWEB) January 10, 2020
Get Push Monkey LLC ("Push Monkey" or the "Company"), the global leader in web push notification services and web-based marketing technology, is excited to announce the worldwide release of the Company's new Email Integration Feature.
Getting a visitor to subscribe on a deeper level is a challenge. But, every time someone is motivated to accept push notifications from you, they are saying, "I want some form of relationship with this new thing I found." That decision is your opportunity to immediately take that relationship to the next level. Don't miss it!
Now, as new visitors to your website choose to allow push notifications, they can engage even further by entering an email address in a simple customizable dialogue box, instantly including them in your email marketing service. Our new module seamlessly integrates with your existing email marketing database through an easy-to-use process. It's a plug-and-play feature that simply adds a new "door" to your current email marketing service and back-end structure. No muss, no fuss.
This feature allows you to more deeply capitalize on engagement because there's no better moment than when that initial engagement is happening in real time.
Push Monkey has become a global leader in push notification solutions by offering a comprehensive web push marketing platform compatible with all desktop and mobile browsers that features an industry-leading scope of functionality requiring no customer software installation at sign-up.
The Push Monkey platform includes unlimited notifications, state-of-the-art analytics, notification scheduling, geolocation, custom branding, custom API integration, image-rich notification capabilities, segmentation, exportable data, and the capacity to automatically rescue abandoned shopping cart leads with tactful and personalized messaging.
And now, with our new Email Integration Feature, the Push Monkey platform is your comprehensive system for getting the most out of every instance of customer engagement.
About Push Monkey
Push Monkey has been helping thousands of business and website owners drive sales, increase visitor retention and re-engage their subscribers via the power of web push notifications. Websites of all types, shapes, and sizes are beginning to adopt this innovative notification approach, and for very good reason – it offers a simple, effective, powerful way to increase the number of return visitors and form deeper connections with existing users. All that's required to send web push notifications is a website that has web push code installed in it. This means that brands can leverage many of the benefits of push notifications (real-time, personalized, in-the-moment communications) even if they don't have an app. For more information, please visit our website at GetPushMonkey.com.
Corporate Contact:
Get Push Monkey
Steve Sandifer
steve@getpushmonkey.com
Phone: 2144353758‬